Peter, Hannah, and Anna are living in Tarime.
Peter is teaching physics and mathematics at Angel School–a secondary boarding school.  His nickname there is Matiko Jr, since Matiko (Sr) has already been teaching those subjects at Angel. He lives on a shamba (small farm) with his father, a retired teacher and school inspector, and mother, who was the Women's Secretary for the KMT, and siblings.  His father farms and raises guinea fowls.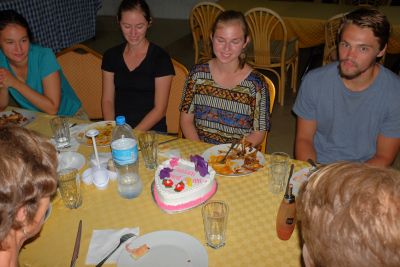 Hannah's host father is also a retired school teacher.  Hannah is teaching a class of pre-K Compassion International-sponsored children at the first Tarime Mennonite church.  We caught her on a Saturday, when the Compassion children of all ages are together for larger group instruction.
We had brought along the GC students from north of Tarime, and celebrated Hannah's 21st birthday together!
Anna is learning a lot at the KKKT (Evangelical Lutheran Church of Tanzania) clinic in Tarime, where she is doing blood and stool tests in the diagnostic lab.
The Tarime area gets more rainfall than other parts of Tanzania.  Bananas can be harvested year round.  Many people have small shambas where they raise crops and have fruit trees.  Anna's sister took us around their shamba which is not so small, and includes sugar cane and a Eucalyptus tree farm, as well as maize, beans, wild guava, and bananas.
Finally, we visited Agnes and Emmanuel Matuntera.  Emmanuel was the local SST service coordinator this year, and our neighbor in Nyabange.  But he has just been named a Bishop of the KMT Diocese of Tarime, and so last Thursday they moved to a new house in Tarime.