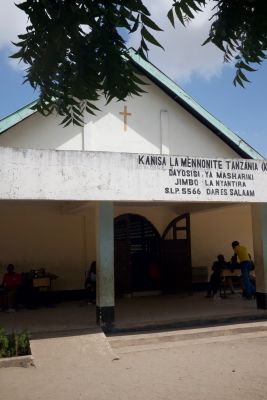 We made a visit to Nyantira Mennonite Academy, a new primary school started by folks at the Mennonite church there. Nyantira is a relatively new community on the outskirts of Dar es Salaam. They are in the process of finishing up an expansion project and applying for full accreditation from the government.
We went out to Nyantira on Friday–which is "sports day" at most schools–to share and play.  All the primary students were wearing their sports uniforms.
We started the morning alongside teachers and staff hauling sand for cement to the new classrooms while a smaller group repaired desks.  We took a break for a soccer game, SSTers versus Nyantira staff.  Our group is filled with folks who enjoy playing soccer–5 have played on GC soccer teams, and many others in high school or in intramural leagues–and it was great to get a lot of physical activity.
We had a tree planting ceremony to commemorate our relationship, followed by lunch with the whole school.  Rice pilau with meat is a special dish.