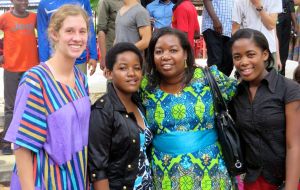 It has been a busy end of the week as we prepare to leave Dar.  On Wednesday we had our last unit house meeting and shared the highlights of our time in Dar, in addition to discussing how to prepare for the service section of SST.
On Thursday and Friday students took their final exams in Swahili class and on Friday afternoon we celebrated their accomplishments with their wonderful teachers.  We exchanged small gifts and shared with each other how much we appreciated their teaching.
Saturday all the host parents were invited to town for a meal together to thank them for their wonderful hospitality.  We thanked the families and provided them with a small gift – a photo of their family and son/daughter that we had prepared earlier in the week.  It was a nice time of remembering and reflecting on the unique opportunity that students have to live in homes on SST.
We'll have a full week of traveling before service begins!  Since blogging may be difficult on the road, you may not hear from us until next weekend – so here is an overview of the week's plans. Monday morning we leave bright and early for Arusha and will spend the night in what will be higher altitude and thus a cooler climate.  Tuesday we will drive to Ngorongoro Crater where we'll go on a game drive in the crater before returning to the rim where we will camp.  Wednesday night we'll camp in Serengeti National park and enjoy game viewing on the way in to our campsite.  Thursday we'll exit on the west side of the park on our way to Ikoma Cultural Center where we'll spend two nights.  From there we'll visit Grumeti Reserve, where we'll continue to explore the country's challenges in conservation of their natural resources while simultaneously providing for the needs of its people.
Our long safari will end in Musoma where we'll spend 2 nights before students are sent off to their respective service locations.
– Ryan for the team