RESEWO: Regent Estate Senior Women's Group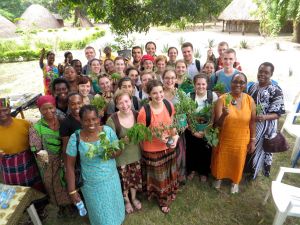 Today we visited the Makumbusho Vijijini (Village Museum) and toured various houses constructed according to various tribal traditions.  Tanzania has 121 tribal groups, we were able to get a taste 10 or so traditional dwellings.
The highlight of the visit was a pre-arranged meeting with RESEWO: Regent Estate Senior Women's Group.  RESEWO works to educate communities about the health, nutritional, and medicinal benefits of using native plants.  The group, led by Freda Chale, has office space and their own gardens at the Village museum where they grow various native plants, which are sometimes considered weeds by locals.
Mama Chale told us RESEWO started with a tea party at her house in 2006.  She invited her friends for tea, but without their knowledge she served them tea made with blackjack (Bidens pilosa), which is a weed commonly found in Tanzania.  Her friends were impressed with her knowledge of local plants and their nutritional benefits – out of this first tea party RESEWO was born.
Students were inspired by the women's example of hope-filled approaches to sustainability that link gender issues, economic viability, and ecological challenges.  In addition to providing workshops similar to the one we experienced today, RESEWO helps schools start their own community gardens.  The women, mostly retired, come from various backgrounds including agriculture, teaching, nursing, and nutrition.  Their collaborative, determined spirit is making a difference.  We encourage you to visit the following website from which you can see their book: Cooking with Traditional Leafy Vegetables-Indigenous Plants in Tanzania's Kitchen.  More information is available here: http://www.plantspeople.com/tag/indigenous-leafy-vegetables.  Their email address is resewo@gmail.com should you have further interest in contacting them in Tanzania.
We left inspired – the taste of ginger and lemongrass still on our tongues and the images of a handful of dedicated women making a difference in their world.
– Salam from Dar, Ryan