After a flurry of meetings, celebrations, and project presentations in Dar es Salaam, we left on the ferry Friday morning to head to Zanzibar for a few final days of processing, catching up, and preparing to return home.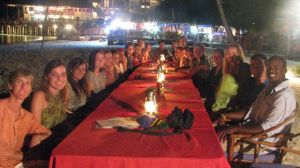 The ferry ride from Dar es Salaam is about a two hour boat ride and we arrived at the port next to Stone Town around lunchtime.  We walked to our hostel, Karibu Inn, in downtown Stone Town and settled in before hitting the town for a quick lunch.  Students had the afternoon off to explore the city on their own.  Many elected to go on the Spice Tour, an exploration of the spice plantations (cloves, cinnamon, lemon grass, cardamom, and turmeric etc.) for which Zanzibar is famous.  Others strolled the narrow streets exploring the rich, Arabic and Islamic culture.  Most of us enjoyed dinner on the plaza where local grilled seafood was the highlight.  In the morning we left around 11:00 a.m. for the northern beaches of Zanzibar near the town of Nungwi.  Before leaving some students arranged for a historical tour of Stone Town, which explored the early slave trading era under the rule of Arabic Sultans.
We arrived at Nungwi Inn in time for lunch, but most students ran directly to the aquamarine waters for sun-bathing!  We spent Saturday and Sunday night at Nungwi with ample time for catching up, telling stories, debriefing meetings, and a bit of play in the surf. Saturday evening the group met on the beach to reminisce.  In small groups students were asked to share stories that answered: on the 2011 Tanzania SST what was a) your funniest memory, b) the time you were most impressed with a colleague for their cultural sensitivity, c) your own personal biggest cultural faux paux, d) your most embarrassing moment, e) your most appreciated Tanzania cultural learning, .. etc.  The conversation, beneath the stars, reminded us of the many challenging, thrilling, and engaging experiences we've shared with our families, friends, and colleagues here in Tanzania.
On Sunday Donna and I interviewed each student to gain some personal insight into their unique experiences on the trip.  In the afternoon at 1:30 we met again as an entire group to discuss more broadly the following questions: 1) what are "human universals" that seem to be common to all cultures, and 2) in what ways has the Tanzanian worldview influenced your own personal worldview?  We wrapped up with the obvious conclusion that this conversation will be an ongoing one, as our experience will keep unfolding for us for years to come.
In the afternoon about 10 of us took a dhow boat ride to go snorkeling and enjoy the evening sunset. Wow.  Others enjoyed swimming, volleyball, and relaxing.  We ended our time at Nungwi with a group meal on the beach… the "last supper."  It was a time to share thanks, express our mutual appreciation, and dream about future SST reunions!  The group presented us with a small book in which each student wrote a short note of memories and thanks. The evening was the perfect ending to the 3 months.
It has been a great gift to study in Tanzania with 22 other pairs of eyes, each adding their own insights and perspectives.  These are the memories we'll all hold, as one student wrote… "we'll never be the same."  Thanks, too, for joining us on this journey via the blog.
Donna, Ryan, Mara, and Isaac