Project Presentations & thanking our host families…
This morning (after a very short night!) we gathered at the unit house for a morning of student presentations (and mandazis, fruit, fresh bread, and cheese).  Each student has been working on an interdisciplinary project of  his/her own choosing during the entire semester in Tanzania.  The goal of the project is to emphasize the connections between multiple disciplines, which are necessary in order to address solutions to complex problems.  It was an impressive showing — here are a smattering of some of the projects.  You guess if you can tell who authored them!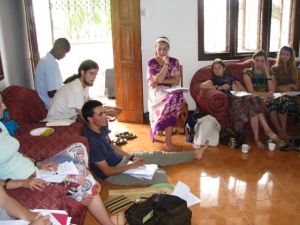 – Women Farmers in Tanzania
– Perceptions of British Colonialism in Shirati, Tanzania
– A Transcultural Believers Church – A Look at Tanzanian Mennonite Anabaptism
– Porridge, Water, and the Village – A Look at Dietary Health
– Water Access in Shirati
– A Portrait of Murangi – In Light of Education and Opportunities
– Factors Facing Dentistry in Tanzania
– Music Education in Tanzania
– Beekeeping in Tanzania:  A Look into Methods, Challenges, and Opportunities
– And more!
It was a wonderful morning of sharing, reflecting, noticing connections, pondering new questions, and sharing the conclusions from loads of work.  We'll continue these conversations during our retreat in Zanzibar, which we begin in the morning.
This afternoon we invited all the host families to the Village Museum Cultural Center for an afternoon of snacks, sharing, gift-giving, and generally thanking the host families in Dar es Salaam for their generosity and care.  Students returned to their families for one last night together – it is hard to contemplate that the time is drawing to an end.  Thank you host families!