Service Assignment: Djilor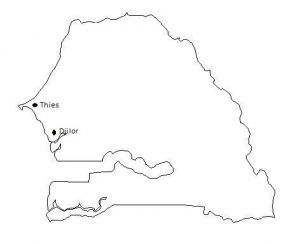 Rosanna and Lindsay are located in Djilor in the delta region of the River Saloum. It is also the birthplace of Senegal's first president, Leopold Sedar Senghor. In fact their host family lives next door to the Senghor birthplace.  Excerpts from their journals describe some of their experiences.
Lindsay
We don't really have a set service assignment here.  For part of the first week we were going with our host brother François to help clear the fields to plant millet and rice.  We did a lot of watching and not a whole lot of doing.  We would get up at 6 and leave by 7 on the horse cart.  We usually ended up staying until noon.  We think that our host brother believes that the work is too hard for us and that's why he doesn't let us do a whole lot.
The second week we didn't really work at all.  It also started raining this week so we were told that there would be plenty to do in a week or two.  There were a few days this week where we helped shell cashews and peanuts.
Rosanna
Many days this past week we've gone to the "discothèque." It used to be a discothèque apparently but our father is having people make it into a house.  The workers are different every day except for Deché who is there every day and loves us.  He's huge, drinks a lot of attaayaa (tea), smokes a lot of cigarettes, and spent 20 minutes today trying to persuade Lindsay to marry him.
We've done things there such as clean out rooms, move bricks, shovel sand, carry buckets of cement, etc.  It's been great.  I love getting to go there now because there we can work hard.  Latyr (our host father) says that since its been raining though we'll have something to do next week at the fields.
Photo credits:  Lindsay, Ron