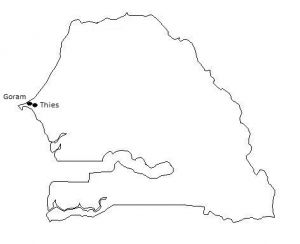 Mayra, Olivia, and Aaron work with a Christian mission near Goram, about a 45-minute drive from Thiès. The mission runs a guest house, leadership training center, orphanage, and farm.  They have been assigned specifically to the orphanage and farm. Excerpts from their journal entries tell more about their activities.
Mayra
We (Aaron, Olivia, & I) have to go to work two times a day at the chicken farm.  We have to go at like 10:30ish and we get out at different times depending on how much work we have to do.  Sometimes its noon sometimes 1 o'clock, but we have to be back at work at 3 o'clock again up until 5ish but that also depends on how much work has to be done.  We have breakfast before we go to work and we eat in between work hours.  In the evenings I usually take a shower, read, but I mostly play with the kids.
Aaron
We go into the white chicken house first.  There we collect the eggs.  After collecting we go around the house checking food and water.  If something is low or out we refill it.  After that we take the eggs to the storage house and sort them out by size and put them in cartons.
After the white eggs have been collected we go into the brown chicken house where do the same things.  After sorting eggs, I typically have to refill the water buckets.  This means going down to the well which is about 50-60 feet from the houses and bring the buckets back.
After that's finished I walk over to the newly planted area and check things out.  Maybe rake some sand around.  Then the guys and I start up the water pump and water the fields.  After that I sit around for about 1 ½ hours and do the process again.  I wait for that 1 ½ hours again then walk back to where I sleep and eat.
Olivia
In the evening once back at the orphanage we play with the kids, either soccer or some little song games.  We take our dinner around 8:30-9:00 p.m. and play several games of UNO before going to bed.
Every Tuesday there is a women's prayer and worship time that me and Mayra go to and on Sundays, Mayra and I help out with Sunday School for the kids.  I like the combination of working at the farm and with the children.
Photo credits: Olivia, Mayra, Ron, Sally Jo