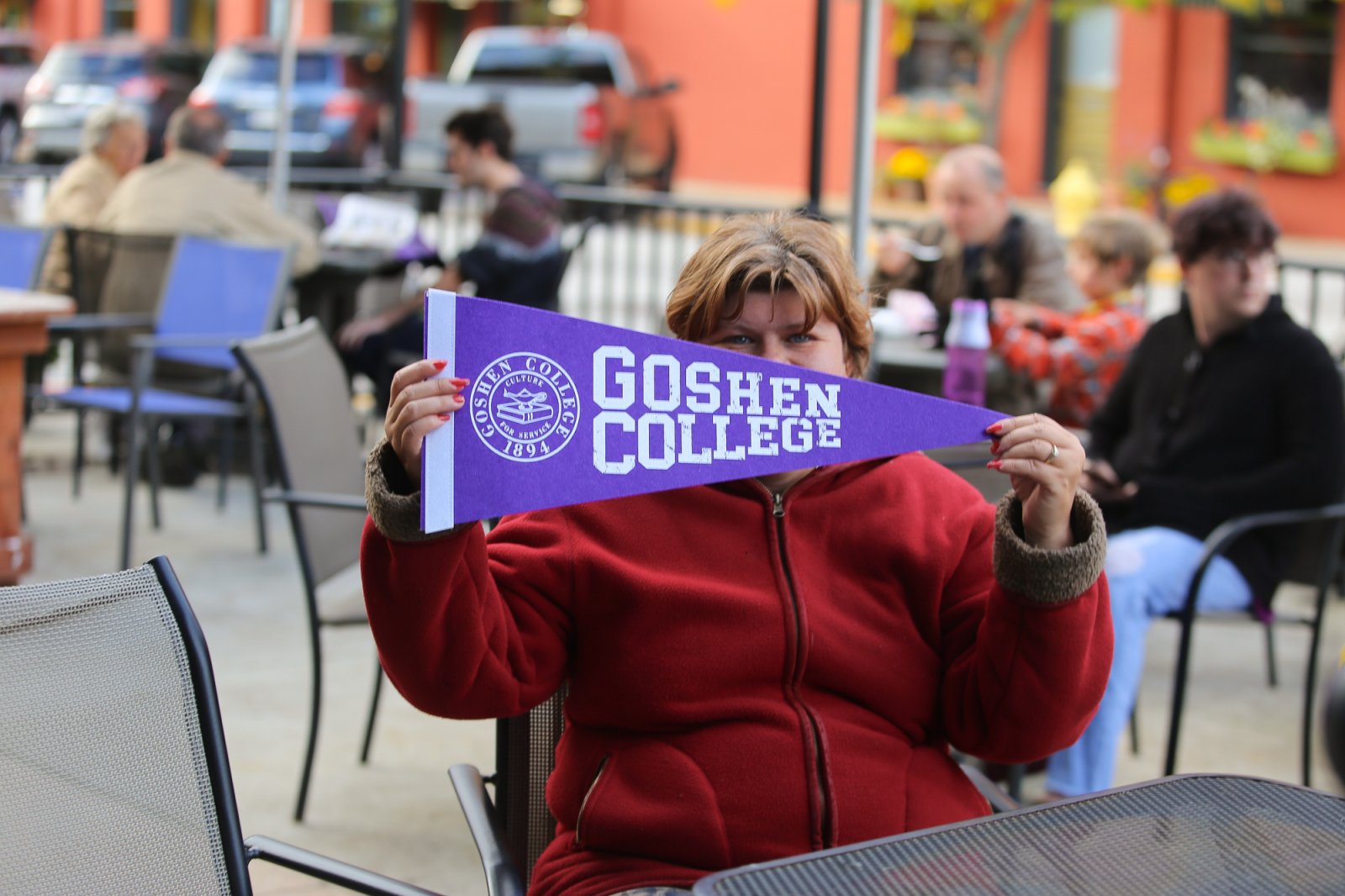 Homecoming Weekend, just concluded, was glorious: hugs and smiles, outstanding alumni awardees with inspirational words, the largest ever class gift from the Class of 1969 in support of our Study-Service Term Endowment, and the talent of our students in Umble Center, Sauder Concert Hall and the Ingold Athletic Complex. The perfect fall sunshine was icing on the cake. (Check out this photo album to get a sense of the weekend!)
For this 125th anniversary year — our quasquicentennial! — historians and alums Joe Springer '80 and Susan Fisher Miller '79 shared certain touchstones from GC's fascinating history. Selected quotations from throughout our history were chalked onto the sidewalks.
All of this has me pondering: What have we inherited from our founders and servant leaders over these 125 years?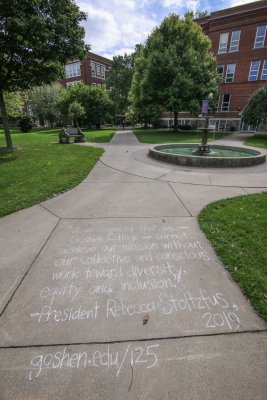 We inherit enthusiasm. Joining the teaching faculty of the Elkhart Institute in 1898, historian C. Henry Smith "faced the future with the enthusiasm born of hope and youthful confidence." One of Goshen's founders, John S. Coffman, described the Elkhart Institute as the "welling up of a pent-up stream that could no longer be suppressed. Disadvantages, opposition, fears of failure, all had to give way before the force that was driven into action by the deep consciousness of duty to God, to the church, to our young people, and to the cause of Christ in general." 
We inherit Christian faith and the vision that "the men and women going out from Goshen College would be armed with a character that will never shrink from maintaining true principles, a trust that relies solely on the favor of God for success," said Coffman.
The commitments of Goshen College to Christian discipleship in general and to the Mennonite church in particular are an enduring inheritance. That these commitments have been questioned in every era of our history is evidence of their aliveness. We did not inherit faith that is sleepy or taken for granted, but a faith that is curious, growing and unafraid of struggle.
We inherit engagement with the world. In 1903, President Noah Byers declared: "Let our motto be, Culture for Service." It still is and we should not underestimate the radical nature of this motto. Goshen's enduring commitment to service and to interconnectedness with local and global communities has been held in tension with academic and church culture.
In the face of the academic tendency to be elite and intellectual, Byers exhorted Goshen College not to produce "an aristocracy of cultivated parasites." And in the face of the Mennonite church's tendency to stand apart from society, J. Lawrence Burkholder asked in 1955 as a young professor: "Shall we go on and take a responsible position in society, or completely withdraw and become a sect in the stricter sense of the word?" Goshen College has over and over voted with minds, hearts and hands to engage and serve the world.
We inherit freedom, as Smith said in 1899, "…not because old habits of thinking are always wrong … but because without this freedom growth is impossible …" Seven decades later, Ruth Krall, the founding professor of our women and gender studies program asked her students: "What do you want to learn? What do you need to learn? And where do you want to look?" The freedom of Goshen College is grounded in our trust in truth and grace, and our openness to the diverse goodness of God's Creation. President Burkholder said in 1984, "Goshen begins with the assumption … that what is odd, exceptional and different may nevertheless be worthwhile, if not revelatory."
In the language of Psalm 16:6, we have "a goodly heritage," a delightful inheritance in fact, and we are eager to steward it into the future.
Rebecca Stoltzfus