Week Three: Dancing, drumming and more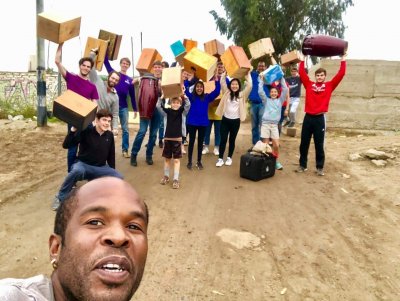 We read, danced, sculpted, painted, and drummed our way through our third week in Perú.  From ceramics to the cajón peruano to poetry, we explored the rich cultural heritage of the arts in Perú.
Monday
Our week began with a visit to the offices of Manos Amigas, a fair trade organization that distributes products created by Peruvian artisans to foreign markets. Their largest customer is Ten Thousand Villages, and many of their products can be found in the Ten Thousand Villages store in Goshen. Manos Amigas operates according to 10 principles set out by the World Fair Trade Organization. These principles include (among other things) payment of a fair price, good working conditions, capacity building, no child labor, and respect for the environment.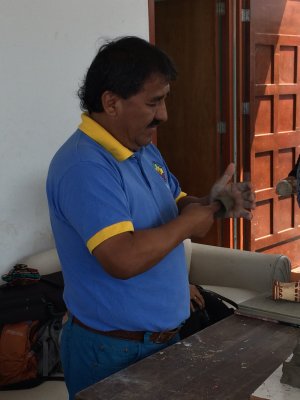 After touring their warehouse, we visited the studio of one of their artisans, Leonidas Orellana, who produces ceramics. Leonidas fled his home in the Andean highlands after his life was threatened during the violence in the 80s. He brought his trade with him to Lima and started making ceramics inside his one-room house. He has since built a thriving business with help from Manos Amigas. He now has a three-floor house with ample workshop space. Leonidas has been so successful that he will soon be phased out of the Manos Amigas program and be able to distribute his art independently. In fact, he recently won a contract to produce ceramic sculptures of the mascot of the Pan American Games which will be given to all of the participating athletes (an order of over 5,000 pieces!). After a demonstration from Leonidas, some students spent some time working with clay, and others did some painting in his rooftop studio. Afterward, students were served lunch by Leonidas' family.
Tuesday
On Tuesday, we had an Art and Literature walking tour, starting on the malecón at the Parque del Faro (Lighthouse Park), and ending in downtown Miraflores at Parque Kennedy. Along the way, we heard speeches from our Artists, Activists and Authors series. Students spoke on writers Mario Vargas Llosa and Julio Ramón Ribeyro, poet and journalist Antonio Cisneros, visual artist Nani Cárdenas, and writer and scholar Ricardo Palma. Upon reaching the park, students had some time to wander in the park which is a popular spot for tourists and Miraflorians alike. Later, students took public transportation back to the church to eat lunch and attend Spanish classes.
Wednesday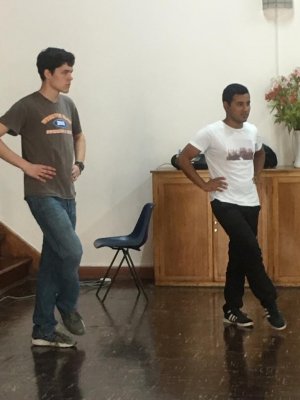 On Wednesday morning, we cleared the chairs out of our lecture space and transformed it into a dance studio where we would get a taste of La Marinera Norteña. The Marinera Norteña is considered the national dance of Perú. It involves fast footwork, a handkerchief and lots of counting!  Under the tutelage of dance instructor and Peruvian Marinera champion Marcio Vera, students created a Marinera flash mob. Using a paper napkin instead of a handkerchief, students put together an assortment of the Marinera's classic moves. Please check out the gallery below to see how students put their best foot forward (or rather, back and on pointed-toe) while learning this dramatic and complicated dance.
Thursday and Friday
On Thursday, we traveled to the province of Chincha, to visit the district of El Carmen. Located about three hours south of Lima, El Carmen is home to the Ballumbrosio family – a family at the heart of Afro-Peruvian music and culture. We were warmly hosted by the Ballumbrosios, who provided us with food, lodging, drumming lessons, and insight into the history of African descendants in Perú. The patriarch of the Ballumbrosio family, the late Amador Ballumbrosio, was dedicated to sharing and preserving the legacy of Afro-Peruvian music and his children have continued this mission since his death in 2009.
Our first stop was a tour of Hacienda San José, located about 15 minutes outside of El Carmen. This sprawling hacienda was a functioning slave plantation run by the Jesuit order beginning in 1688, and later gifted by the King of Spain to a single family which ran the plantation for several generations. At one point, over 1000 slaves worked on the plantation growing sugar cane and cotton, a crop which is still grown in the fields around El Carmen. During our tour of the grounds, we learned that this beautiful hacienda was the site of horrific treatment of slaves for almost 200 years. Escaped slaves, and later freed slaves, from this hacienda were the original settlers of El Carmen.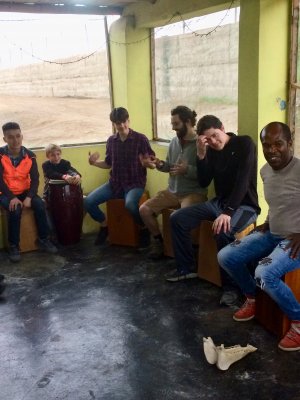 After arriving in El Carmen, we were treated to lunch in the Ballumbrosio family's home. We had a chance to eat one of the signature dishes of Afro-Peruvian cuisine — sopa seca con carapulcra, a stew of potatoes, peanuts and pork served over spiced noodles. Following lunch, Miguel Ballumbrosio led us in a workshop on the cajón peruano — one of the main instruments in Afro-Peruvian music. The cajón is a box-like percussion instrument that is played while seated on the box. We made a circle of cajones on the porch, and attempted to learn some of the basic rhythms of Afro-Peruvian music. These rhythms were very challenging, but with some helpful phrases like 'yo no como camote con maní' (I don't eat sweet potatoes with peanuts), we were able to slap out some of these complicated rhythms. Miguel also gave us a brief demonstation of zapateo. With some elements similar to tap dancing, zapateo has a complex pattern of footwork which uses the feet to create percussion.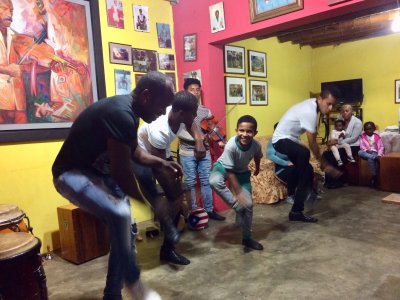 Afterward, we had a game of futbolito (soccer played with fewer players on a basketball-sized court) with some of the younger citizens of El Carmen who were practicing nearby. Though we were playing against 7-12 year olds, we still worked up an appetite! After eating our supper, we were able to see all these pieces of music, dance and Afro-Peruvian culture come together in a house concert by the Ballumbrosio family and friends. We got to see zapateo, along with several other forms of traditional dancing that the Ballumbrosio family has worked hard to preserve for their community over the last 50 years.  At the end of the show, we were invited to get up and try some of the dance moves ourselves. Though we did not move with the same ease as the dancers in the show, we were enthusiastic!
The next day, Miguel took us on a walk through El Carmen. We walked around the fields on the edge of town, where cotton and avocados are grown, up to a hill on the outskirts of town to see the cemetery where his ancestors are buried. While at the cemetery, he told us some stories from his childhood that highlight the ways that traditional African beliefs have blended with Catholicism over the centuries to create some of the interesting practices that exist in El Carmen today. Afterward, we got a chance to tour the Centro Cultural Amador Ballumbrosio, a cultural center started by the Ballumbrosios in their father's memory to promote the cultural life of the community of El Carmen. It is still under construction, but several parts of it, including a library of music and books, are up and running, and it will host its first concert next month.
After a lunch of escabeche (marinated fish covered with red pepper sauce and onions), we boarded the bus for our return to Lima. Though cold, misty weather seems to be following us wherever we go, even to the normally sunny area of Chincha, the students have taken it in stride and continue to show curiosity and enthusiasm.