Chanchamayo: Jordan, Meredith and Cassie
July 9-12.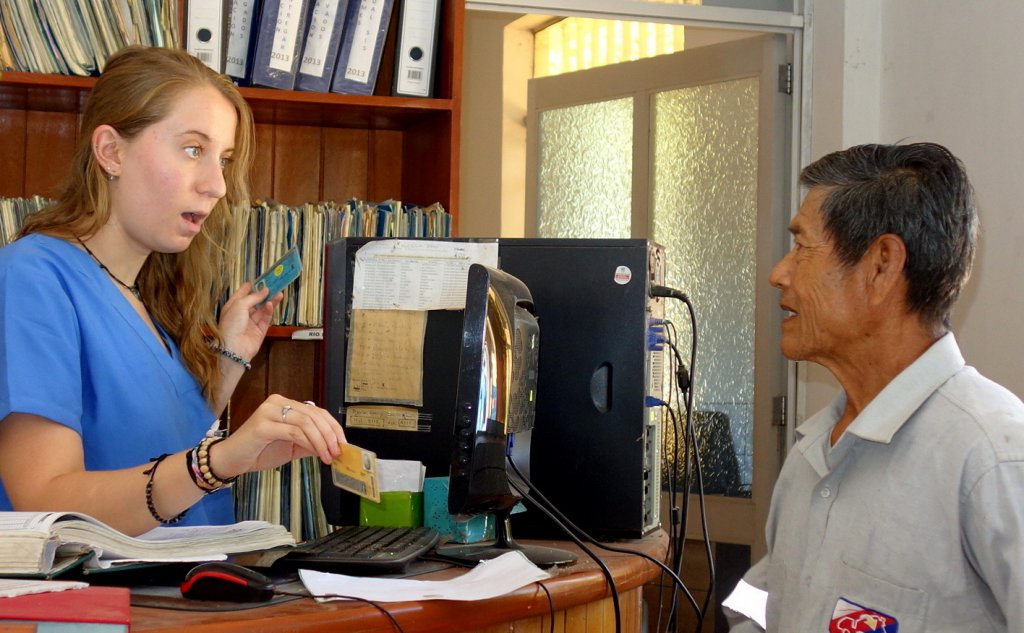 These three nursing students are all serving in different health clinics in Chanchamayo, a popular coffee-growing region directly east of Lima that is reached by a road that climbs from Lima (in the desert at sea level), up over the Andes, through a snowy mountain pass at 16,000 feet, and then back down the Amazon side of the mountains into the steamy, verdant jungle.  The towns where these students work, San Ramon and Perene, are known as being in the "eyebrow of the jungle," an intermediate zone between the Andes mountains and the flat Amazon basin.
Jordan lives in San Ramon but works in a small public health clinic in the rural community of Naranjal near San Ramon.  Because of the clinic's semi-remote location, the government is hard-pressed to staff the clinic, which means they are often short-handed.   Jordan has been able to offer a helping hand with basic nursing skills and other tasks around the clinic.  Today, she got to vaccinate an SST leader for the first time.
Meredith both lives and works in San Ramon.  The private clinic where she works offers 24-hour attention, a wide range of medical tests, and occupational medical services for several local businesses.  This has allowed Meredith the chance to learn and practice a wider range of different medical tests than what are offered at small health posts.
Cassie lives in Perene, about an hour from San Ramon, but works in the public health post in the nearby small community of Marankiari Abajo.  The physician and some of the other staff at the clinic are shared and rotated to other local public health facilities, so Cassie's help often helps relieve long wait times when few staff are present at the clinic.  Cassie's host mother is Ashaninka, an indigenous group with several communities in Chanchamayo.  Students Caleb and Christy live in a nearby Ashaninka community that includes relatives of Cassie's mother.