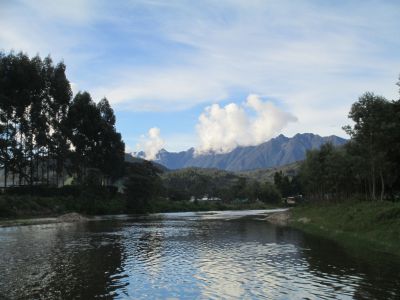 Oxapampa is a charming city of 10,000 inhabitants located in the lush green foothills of the Andes, some 1,800 meters (5,905 feet) above sea level.  Settled in 1891 by a group of colonists who originated in Austria's Tirolean Alps, the city features a distinct culture that brings together European, Native and Spanish elements.  The city has attracted migrants from the surrounding villages who have come in search of work, opportunity and education for their children.
Schools often fail, however, in their attempt to teach children how to read and write.  According to one source, while most Peruvian children claim they know how to read, only 8 in 100 actually understand the content of what they are reading.  While most learn how to pronounce the words out loud for their teacher, relatively few comprehend the message the words are intended to convey.  How to remedy this situation is the subject of debate.  One approach is to develop after-school programs to supplement the public school curriculum.  Another is to change the way children learn, beginning in kindergarten.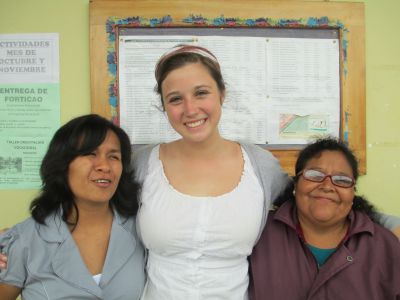 Emma is volunteering at an after-school program sponsored by Compassion International, a nonprofit organization funded by U.S., European and Australian donors that sponsor children in developing countries.  Compassion has partnered with a local church, Oxapampa Christian and Missionary Alliance, to deliver educational, health and nutrition services to disadvantaged children.  Emma spends her mornings in the office, organizing the sponsorship paperwork, as well as in the kitchen, helping prepare meals for 120 hungry mouths.  After lunch she teaches English to the older children, introducing basic vocabulary and teaching correct pronunciation.  The children who come here are what social workers consider "at risk" and behavioral issues complicate matters.  Teaching in this context can be challenging, but Emma has a big heart and is committed to helping the children learn.  And the people she works with in the office admire her efficiency!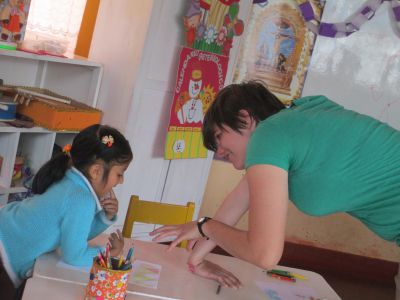 Aspen volunteers at Jardín de Niños "Los Jazmines" (Jasmine Kindergarten), an innovative preschool for 3, 4 and 5-year-old children from Oxapampa and surrounding villages.  The school's director, Zulema, has adopted a curriculum called "learning through play" that emphasizes age-specific activities meant to engage each child and make learning fun.  In addition to asking them to "color between the lines," the children are also given blank pieces of paper and crayons and taught to exercise their creativity — the results are impressive.  Aspen is working with the 3-year-old class, helping the teacher, Olga, direct activities inside the classroom as well as outside during recess.  Aspen also teaches English, helping the children learn the names of colors, fruit and other common objects.  Children at this age are eager to learn and Aspen is an enthusiastic and engaging teacher!