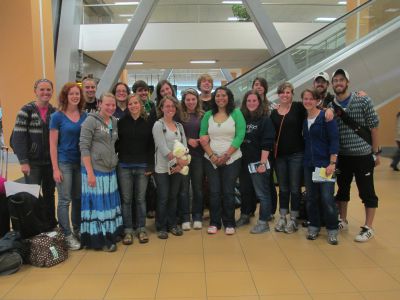 We left before dawn for the airport.  The streets were quiet.  So were we, for the most part — each to her, or his, own thoughts.
Three months ago this short bus ride marked the beginning of a journey.  Now the journey comes to an end.
The luggage was unloaded, then checked in at the counter.  Boarding passes, with seat assignments, were issued to each.  One more group photo.  One more chance to say goodbye.  Feeling sad to go, but happy to be going home.
We love you, students.  Be safe.  Travel well.
You are different now — more open, more experienced, more patient, more humble, more wise.  Let yourself stay different as you return to the familiar.  Remember what you have learned as you enjoy the comforting sights, sounds and smells of home.
From our family to yours, Merry Christmas!