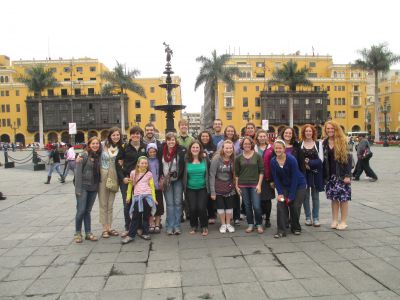 The students finished their time in Lima, Peru's bustling capital, with exams, language practice, a visit to a fortress, a tour of downtown and a workshop on jewelry-making.
Eliana and Ricardo Mauriola Carrasco supplement their family's income by producing custom-made jewelry from seeds collected in the rainforest.  Each student chose an item — a bracelet or necklace — then selected a variety of seeds, settled on a design and got to work fashioning a unique piece of jewelry.
Downtown Lima is a fascinating place, a mix of colonial (1535-1821), republican (post-1821) and modern architecture centered around the city's main square, the Plaza de Armas.  The students visited the Plaza and ate lunch at a local restaurant.  Afterward they toured the Santo Domingo Monastery and Church, home to the shrines of Peru's two saints:  Santa Rosa de Lima and San Martin de Porres.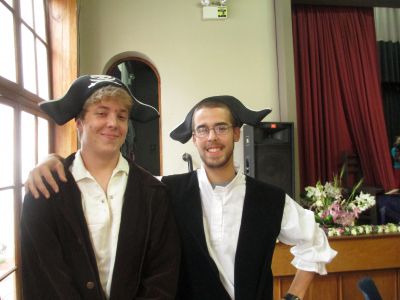 Real Felipe is a fortress built by the Spanish to defend Lima's port from attack by pirates.  The students visited the fort, now occupied by the Peruvian army, to learn more about the colonial period in South American history.  The field trip was also good preparation for the Spanish-language drama the students performed for the farewell party for their host families.  Entitled "Los Piratas" (The Pirates), the drama is a humorous depiction of life in colonial Lima, featuring the Spanish viceroy, a ragtag group of English fortune hunters,  the serene St. Rose of Lima and the one with whom she conversed each day, God Almighty.
The farewell party also featured an original comic skit by the American Sign Language students, performed with Peruvian signs and enough body movement and facial expression to get everyone in the room laughing.  Then came signing, thank you's and refreshments.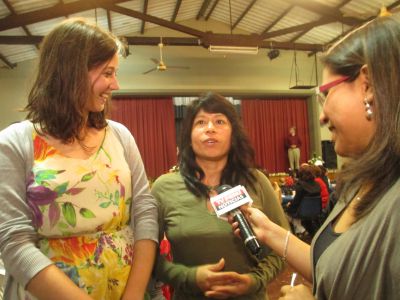 And, for the first time, part of the action was covered by a television reporter and camera crew from Lima's Channel 7 News who were invited, unbeknownst to the students, by one of the host fathers.  Ronald Peña, Rosa's host dad and the president of ASSOLI (the Lima Deaf Association), has connections to the television station through his friend and interpreter, Jimmi Arimborgo.  The reporter spent half an hour watching the performance and interviewing several students and host family members.  Two days later a report appeared during the morning news featuring excerpts of the interviews and a brief description of the unusual cultural exchange between English-speaking North Americans, Spanish-speaking residents of Lima and Sign Language-speaking members of the deaf community.