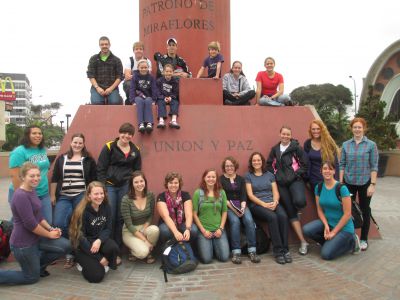 Lima is a different world, a growing metropolis that straddles the narrow desert plain between the Andes mountains and the Pacific Ocean.  The area receives only a centimeter (less than half an inch) of rain each year.  Rivers like the Rimac, which originate high in the glacier-laden Andes, provide water for human consumption and green spaces.  Amazingly, over 9 million people live here, a third of Peru's population.  And, for the next 4 1/2 weeks, eighteen Goshen College students will add their presence to this dynamic city, accepting the hospitality of their host families and learning everything they can about life on the other side of the world.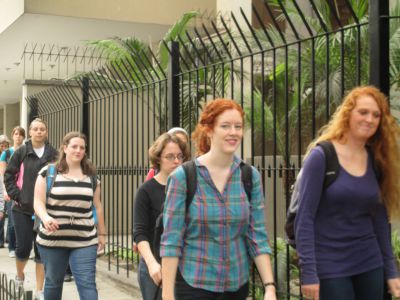 We began with a two-day orientation, a chance to get to know each other and begin exploring the environs near the Miraflores House, the hostel where the students sleep during orientation, and Casa Goshen, the directors' home.  We started with introductions:  How will you say or sign your name here in Peru?  Where are you from?  What is the largest city you have lived in?  What is the farthest you have ever traveled from home?
We learned that most of the group has already traveled far afield:  Florida, California, Mexico, Europe, Asia, Africa and Latin America.  These experiences will help with the adjustment to a new culture.  Then we talked about the reality of life in a bustling, foreign city — how to stay safe while venturing out into the unknown.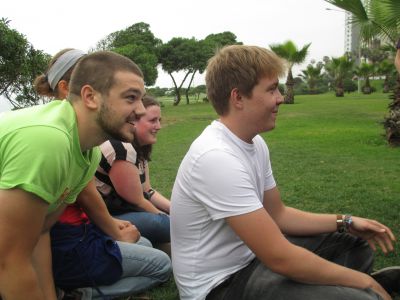 We walked down to the Malecon, the bluff park that overlooks the Pacific, and gave the students a chance to descend a series of steps, about 300, and touch the water of the world's largest ocean.  We picnicked on triple sandwiches (three layers of ingredients inside four slices of bread) and played group games on the lawn.
Afterward we walked back to Casa Goshen and welcomed several guests.  Sylvia and Oscar are a sorda (deaf) couple who met while studying at a special school in one of the marginal neighborhoods at the edge of the city.  They told us their story, with the help of an interpreter, Joseph.  Sylvia's mother, a single mom with no other children, would not admit that her daughter was deaf until she turned ten.  Sylvia finally began learning sign language when she was admitted into EFATA, a school for deaf children founded by American missionaries several decades ago in Villa El Salvador.
Sadly, Sylvia and Oscar face considerable discrimination and cannot find regular work.  They try to make ends meet by selling "I love you" notebooks or candy in the streets of their neighborhood.  A year ago their first child was born.  Named after her mother, little Sylvia is an oyente (hearing person).  She is adorable.  Over the next few years this child will need to learn sign to communicate with her parents and Spanish to communicate with her other relatives and friends.  Providing children like Sylvia a bilingual education is a challenge in a low-income country like Peru.
On our second day of orientation we walked in a different direction, our suitcases in tow, to Buen Pastor (Good Shepherd) Church.  We discussed the academic structure of our program — lectures, workshops, field trips, readings, tests, essay assignments, the research project and other program elements.  Celia, our study coordinator, described Lima culture, including how to manage the seemingly-chaotic but surprisingly-efficient bus system and the proper way to greet their host families later that afternoon.  For lunch the students tried their first Lomo Saltado ("jumping shoulder," a popular dish made with stir-fried sirloin, onions, tomatoes and fried potatoes).  Then we introduced the language instructors — Irene, Moises, Ana for Spanish and Laura for Sign Language — and the students spent the rest of the day refreshing their communication skills before their host families arrived to take them home.  This weekend they begin getting to know their new Lima mothers, fathers, sisters, brothers, aunts and uncles, experiencing life from a uniquely Peruvian perspective.