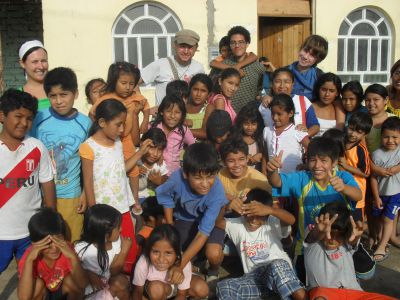 Chimbote is famous, both among Peruvians and former SSTers.  Peruvians think of the fish that are caught here, home to some of the best Ceviche on the coast.  SSTers think of Father Jack, Sister Peggy, Charles, Jaime and the hundreds of other characters who perform good words and minor miracles at Our Lady of Perpetual Help Parish each day.
Sadly, the city still suffers from deep poverty caused in part by overfishing, this year's El Nino effect and the resulting decline of its principal industry.  Seeking to avoid the smell that characterizes an aging fishing port, most of the wealthier residents have moved to nearby Nuevo Chimbote (New Chimbote).  Those left behind try to eke out a life in the dusty streets and ramshackle buildings that comprise the older parts of the city.  The children here are particularly vulnerable to hunger, disease, violence, chemical dependency and gang activity.
Kevin came to Peru with a strong sense of calling to serve in Chimbote.  He loves spending time with children and is eager to get involved in their lives.  In the last few weeks he has worked with staff at a gang-prevention program, offering young teens opportunities to play, create and learn in a safe environment that helps keep them off the street.  He also assists at a neighborhood shelter where women and children can escape abuse and enjoy hot meals, educational programs  and the benefits of friendship.
Max is naturally gifted at drawing and other artistic endeavors, something that the parish staff soon discovered when they asked him to assist with a morning arts program.  He has helped kids learn to draw and paint, creating original artwork that graces the parish library's walls.  In the afternoons Max works with boys and girls in an after school program.  On the day we visited he helped the instructor teach the kids about the importance of eating vegetables.  After a presentation on why they should eat foods of various colors, the kids got a chance to sample the fresh veggies.  Max and another volunteer distributed portions of tomatoes, lettuce, onions, avocados and other healthy foods that are common in Peru but rarely eaten in neighborhoods like these.