Claiming the Promise of Life Abundant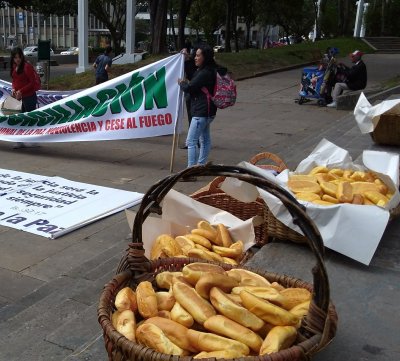 Growing up as a child in a North American Mennonite congregation, the biblical texts about peacebuilding that I most often heard were from the Sermon on the Mount in Matthew 5. When I first moved to Colombia, South America, in 2009 to research the history of the Anabaptist denominations there, I also heard many sermons focused on the Sermon on the Mount. Yet I found that John 10:10 was referenced much more frequently than in the North American Mennonite churches I had known.
In John 10 Jesus is in the midst of a discourse about the Good Shepherd and his sheep. Contrasting himself with the thief that comes to kill and destroy, Jesus says, "I have come that they may have life and have it abundantly." Some scholars suggest that the writer of John intended life in its fullness to be understood eschatologically, but Colombian Anabaptists have insisted that Jesus' promise is for the present as well.
Colombian Mennonite Ricardo Esquivia was one of the first to publicly explore the "abundant life" promised in John 10:10 and apply it to the Colombian context. In 1998 he wrote a reflection on peacebuilding informed by John 10:10: "For many, peace is the absence of war. They have not yet embraced the concept of peace as the fruit of justice, as reconciliation, understanding reconciliation as the reconstruction of lives, of trust, love, respect, and mutual care."
The year in which Esquivia wrote those words was the same year the Colombian air force bombed the hamlet of Santo Domingo, killing 17 Colombian citizens, including 6 children. It was two years before kidnappings in the country reached a peak of over 3,500 annually and ten years before confirmations of the extrajudicial killings known as "falsos positivos" began to break national news. To speak of life abundant in a context where the absence of war would have been a welcome reality required a deeply rooted and imaginative spirituality, coupled with an unflinching awareness of the forces that seek to kill and destroy.
I soon found this testimony of "life abundant" evident in the personal lives of church members, as well as in corporate actions. When faced with the death of family members, the bereaved praised the God of Life. Every September on the International Day of Peace, Colombian Mennonites took to the streets of their cities to hand out bread and tracts with commitments for nonviolence. It was explained to me that hunger and peace were incompatible—the abundant life as promised by Jesus included a full belly—so bread must be part of the public witness. A common grace before meals thanked God for provision and alleviation of our physical hunger; it ended by asking God to give those around the table a hunger for justice.
For Colombian Anabaptists life in abundance as promised by Jesus is at the very heart of the gospel. As Mennonite Brethren leader Américo Murillo stated, "[Jesus] gave health and food as part of the goal of his mission, of salvation. That salvation includes health, food, and all that [we need]." Such a holistic understanding of the gospel, in turn, constitutes a crucial framework for Christian community and the call to peacemaking and reconciliation.
The formative nature of the inner congregational life of the church is coupled with a steadfast commitment to envisioning abundant life for neighbors and walking in solidarity with those outside the church community. At this cross-section, a plethora of ministries have emerged: after-school programs in vulnerable neighborhoods, migrant ministries, mediation programs, and development initiatives in conflict zones. The gospel as "life abundant" has also proven to be resilient, allowing the church to navigate humanitarian crises, prosperity gospel messaging, and post-conflict realities with agility and consistency of witness.
This is an interpretation of peacemaking in the Anabaptist tradition that I would never have known without my exposure to Colombian Anabaptists, but it has been personally transformative. I now understand and live out my faith as a follower of Jesus and practice peacebuilding differently, because of those encounters. The promise of "life abundant" from John 10:10 is rooted deep down in me, alongside the Sermon on the Mount.
These experiences have clarified for me the necessity of collaborative, equitable and mutually enriching global Anabaptist scholarship. Under John D. Roth's wise leadership, the ISGA focused its resources and connections to further such goals. I look forward to carrying on those commitments. That more would have the chance to engage with the insights born out of Anabaptist faith as lived and practiced in diverse contexts!