This week began with an orientation to the campus of Duta Wacana Christian University and some of the surrounding area. Regular language classes also started.
Our first field trip was to the Keraton (Sultan's palace) and Tamansari (royal water gardens). The current Sultan is also the governor of the Special Province of Yogyakarta, that includes the city of Yogyakarta. The region enjoys a special status, and a degree of autonomy, due to the support that the then Sultan gave to the national independence movement in 1945.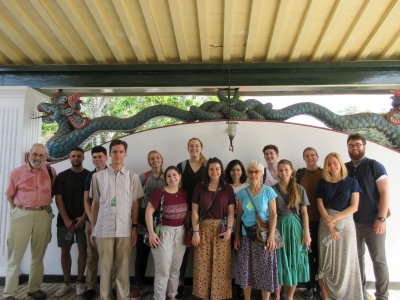 At the Keraton guides explained the purpose of each area, told us a lot about the royal ways of life, and showed us many artifacts and valued possessions.
At Tamansari we saw an elaborate set of pools, one for the Sultan, one for his wives and concubines, and one for the children.  Sultans in the past had many wives and dozens of children, but today, we were told, the Sultan has only one wife. Tamansari today is mainly used as a tourist attraction.
We had our first time at "rumah Goshen," the unit house where the faculty leaders live. It was a time to share and reflect on our experiences, especially with host families, thus far. We also enjoyed a meal of gado gado – lightly cooked vegetables with spicy peanut sauce.
We ended the week with a series of two lectures by Dr Baskara T. Wardhaya, a historian and ordained Jesuit priest, who got his PhD from Marquette University in the US. He helped us understand Indonesian history since independence (1945) as well as the role of the US and other superpowers in the region during the "cold war" era. We saw a video and met with a group of survivors from the 1965 tragedy.