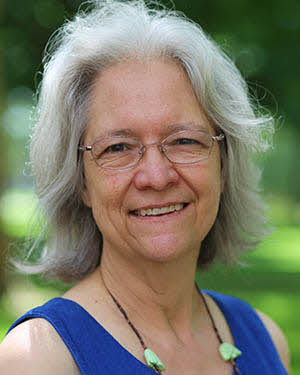 By Ann Hostetler, professor of English
Scripture: Isaiah 7:10-16 (NRSV)
SAFEHOLD
Last night, a double thunderstorm,
July-worthy, in November.
This morning, snow flurries, pixie-dust
of reassurance that the cycles are more
or less in place. But the weather's off—every
month this year another global record-breaker
for heat. And now a charismatic con man's taken
possession of the free world, conspiring with
racists and climate deniers to hasten
the end of democracy, of the world as we'd
hoped it. Oh Thou who art many things to
many—how long can we deny the signs?
Like Noah, I build an ark,
gathering what I love inside—
this frail coracle
of words.
Poem reprinted from Safehold by Ann Hostetler, with permission of the author. 
Isaiah 7:10-16 reminds me of writing this poem shortly after the 2016 election.  
In the 8th century BCE, King Ahaz also felt gripped by a national crisis; political unrest, after all, is nothing new. "Ask God for a sign," the prophet Isaiah advises him, "whether in the highest heights or the deepest depths." 
"I won't put God to the test," King Ahaz responds. 
But is this his humility or lack of faith speaking? The scripture suggests that Ahaz already had a plan—he didn't want to mess with it. Or open it up to divine disruption.
Isaiah responds with frustration. "Is it not enough to try the patience of humans? Will you try the patience of my God also?" Then, he offers a much grander vision: the coming of Immanuel, "God with us." Before the Christ child is able to tell right from wrong, he predicts, the two rival kingdoms Ahaz is worried about will be "laid waste."
Isaiah's prophecy doesn't offer an immediate solution to the King's political dilemmas, but rather, a luminous hope for the future. Let us live into the advent season this year with renewed courage that God's long-sighted plan is larger than our imaginations.  
Scripture: Isaiah 7:10-16 (NRSV)
Again the Lord spoke to Ahaz, saying, 11Ask a sign of the Lord your God; let it be deep as Sheol or high as heaven. 12But Ahaz said, I will not ask, and I will not put the Lord to the test. 13Then Isaiah said: "Hear then, O house of David! Is it too little for you to weary mortals, that you weary my God also? 14Therefore the Lord himself will give you a sign. Look, the young woman is with child and shall bear a son, and shall name him Immanuel. 15He shall eat curds and honey by the time he knows how to refuse the evil and choose the good. 16For before the child knows how to refuse the evil and choose the good, the land before whose two kings you are in dread will be deserted.