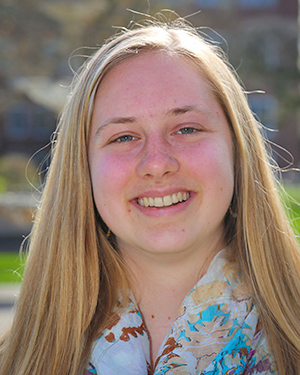 By Lydia Dyck, a junior biology major from Durham, Ontario
Scripture: Psalm 25:1-10 (NRSV)
Once, while I was in the midst of one of those not-doing-enough-to-save-the-world crises, my mum came up with this saying: "We need to keep harnessing our lightness of being, so we can reach beyond ourselves." In a way, the person calling out to God in Psalm 25 is acting out this quote. They lift up their soul, choosing, against reason, to trust in a God of mystery rather than relying on their own strength to figure out how to live.
In my current college semester I am studying sustainability, a field that requires collaboration of diverse strengths, as well as hope, to work out regenerative solutions. For me, I've found growth of hope in the concept of mystery. We seem to have become obsessed with control, as a society, confining and isolating nature in order to feel dominant over what we see as a wild environment. In reality the control we've felt is not real or is more damaging to us than we realize. The world is packed full of awe-inspiring mysteries that are wild, but they are not as scary as we take them to be.
In a book titled Mindfully Green, the author Stephanie Kaza describes the concept of life as an unfolding puzzle. As tough as it is for me to accept that I may never work out perfect solutions for environmental renewal, it can be comforting to rest in the process of slowly putting puzzle pieces together. I can lighten my load of needing to understand everything. Admitting we need to reach beyond ourselves is powerful. It  opens us to accept sustaining gifts from the earth with gratitude, not entitlement, and connect to others who also cannot act alone. I invite us all to be humble, but curious, as we wait in mystery.
Scripture: Psalm 25:1-10 (NRSV)
To you, O Lord, I lift up my soul.

2O my God, in you I trust; do not let me be put to shame; do not let my enemies exult over me.

3Do not let those who wait for you be put to shame; let them be ashamed who are wantonly treacherous.

4Make me to know your ways, O Lord; teach me your paths.

5Lead me in your truth, and teach me, for you are the God of my salvation; for you I wait all day long.

6Be mindful of your mercy, O Lord, and of your steadfast love, for they have been from of old.

7Do not remember the sins of my youth or my transgressions; according to your steadfast love remember me, for your goodness' sake, O Lord!

8Good and upright is the Lord; therefore he instructs sinners in the way.

9He leads the humble in what is right, and teaches the humble his way.

10All the paths of the Lord are steadfast love and faithfulness, for those who keep his covenant and his decrees.