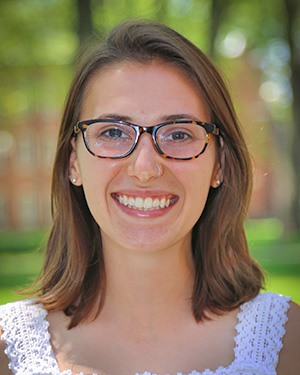 By Jill Steinmetz, a senior art major from Bluffton, Ohio
Scripture: Luke 1:46b-55 (NRSV)
Have you ever actually danced for joy? I started dancing when I was two years old. That's how I broke my arm — falling off of the coffee table after a particularly precarious spin. I didn't seem to mind the break much — my parents didn't even realize that I had hurt myself. I imagine that I felt the fall and the break came as a minor setback in comparison to the joy I got from the spinning and twirling. I still love to dance and the occasional falls do not deter me from doing it again.
When I am happy, I dance. I eat something delicious, and I bounce around in joy. I express myself through dance and through dance I evoke joy. Dance can be a form of communication, and beautiful things are able to be said in movements that cannot be spoken. In the first chapter of Luke, Mary arrives at Elizabeth's house and the fetus in Elizabeth's belly jumps for joy! This is to be praised and the women are so excited. The timing of this little dance is a sign of something great and a signal that the Holy Spirit is present. In Mary's Song, she sings her praises to the Lord for everything wonderful she sees, including the first little dance of this unborn baby.
Mary is overcome with joy and celebration. What fills you with joy and excitement this Christmas season? Is it a beautifully performed musical piece? Doing puzzles with grandchildren? Reading? Whatever it is, when you get those intense feelings of joy, deep understanding or great love, thank God. Celebrate what you have been blessed with, and remember the joy felt by Mary and Elizabeth, that we can be joyful about today.
Scripture: Luke 1:46b-55 (NRSV)
And Mary said, "My soul magnifies the Lord, 47and my spirit rejoices in God my Savior, 48for he has looked with favor on the lowliness of his servant. Surely, from now on all generations will call me blessed; 49for the Mighty One has done great things for me, and holy is his name. 50His mercy is for those who fear him from generation to generation. 51He has shown strength with his arm; he has scattered the proud in the thoughts of their hearts. 52He has brought down the powerful from their thrones, and lifted up the lowly; 53he has filled the hungry with good things, and sent the rich away empty. 54He has helped his servant Israel, in remembrance of his mercy, 55according to the promise he made to our ancestors, to Abraham and to his descendants forever."