By Richard R. Aguirre, director of corporate and foundation relations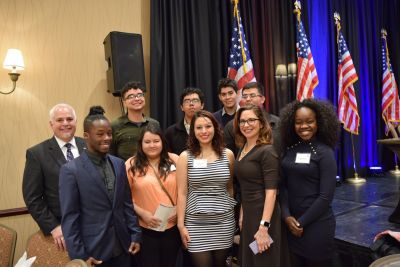 Eight Goshen College students attended the 2016 Latino Legislative Breakfast in downtown Indianapolis on Feb. 9, accompanied by President Jim Brenneman, Senior Director of Intercultural Development & Educational Partnerships Gilberto Pérez Jr. and Director of Corporate and Foundation Relations Richard R. Aguirre.
Achieng Agutu, Yanini Davila, Jessica Davila, Etienne Davis, Moises Hernandez, Nahshon Lora, Esteban Montoya and Diana Navarro heard a wide range of elected officials and political leaders during the Sheraton Hotel breakfast, which was sponsored by the Indiana Latino Institute.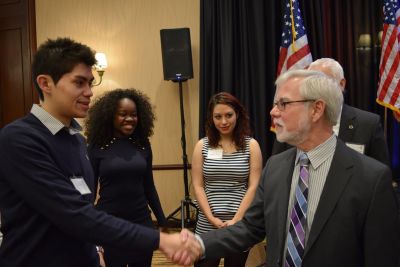 The speakers included Indianapolis Mayor Joe Hogsett, Speaker of the House Brian Bosma, Minority House Leader Scott Pelath, Rep. Christina Hale (the only Latina/Latino in the Legislature), Majority Caucus Chair Sen. Jim Merritt, Minority Senate Leader Tim Lanane, Indiana Republican Chairman Jeff Cardwell and Indiana Democratic Chairman John Zody. Other speakers: Marlene Dotson, president and CEO of the Indiana Latino Institute (ILI), Charlie Garcia, ILI board chair, and Rafael Sanchez, a television reporter for RTV6 in Indianapolis.
The leaders discussed higher education, immigration reform, political empowerment and other issues of importance to Indiana's fast-growing Latino population. The students were thrilled that Goshen College got several "shout outs" from speakers because of the college's success in creating a thriving intercultural community with rising Latino enrollment, retention and graduation rates.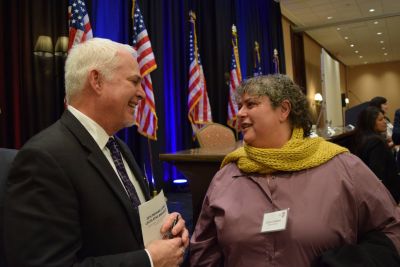 Legislators sharply disagreed on one question – submitted on behalf of the GC community – asking when the Indiana Legislature will expand civil rights protection for GLBTQ individuals. Republican lawmakers responded that civil rights won't be expanded this year because it is a complicated issue, is opposed by many religious organizations and lacks adequate support from the Republican-led Legislature. Democratic leaders responded that it's time for Indiana to protect all residents, regardless of their sexual orientation or gender identity, and that the Legislature's failure to take action would continue to brand Indiana as an intolerant state and discourage convention visits and business development.
While Goshen students enjoyed meeting Mayor Hogsett and the legislative leaders, most said they drew as much satisfaction from networking with community leaders and learning about internship opportunities. Students also said they also enjoyed dinner at the Hard Rock Café, the overnight hotel stay in Indianapolis, spending time with one another and getting better acquainted with Jim Brenneman, Gilberto Pérez and Richard Aguirre.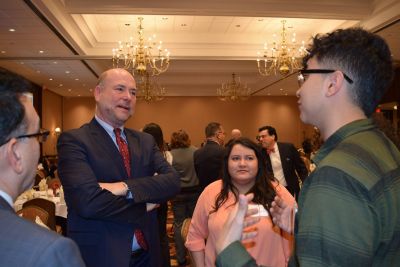 Overall, it was a satisfying trip that underscored the value of intercultural learning.