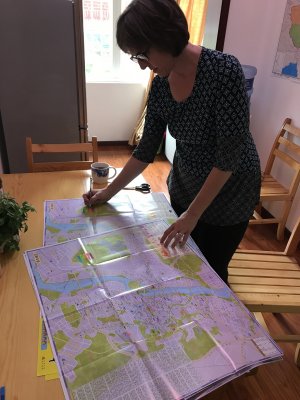 When the students arrive in Chengdu Thursday evening (Thursday morning Goshen time) we'll be at the airport with our local coordinator, Wang Ying. We'll travel by bus to Nanchong where the students will have a couple nights at Beihu Hotel, close to our apartment and to Wang Ying's organization "Peace in China" where we will hold orientation sessions. Students will meet their families on Saturday at 5 p.m.
We have been busy preparing. This has included meetings with the Foreign Affairs Office at China West Normal University, which organizes host families and classes in language, culture and history. The university also coordinates the English teaching placements for the service portion of our term. We've also met with Wang Ying, who helps us in particular with orientation and field trips. We've been setting up logistics like banking, learning bus routes, exploring the city and some excursions, and working on the academic materials. We were pleased to find a good city  map of Nanchong and will give each student one marked with a few key locations. The host families enjoyed seeing an example at our meeting and look forward to studying it with their student – we noted that in both US and China, printed maps are less utilized but can be a tangible way to visualize and understand a city.
All of the host families are connected to the university with a family member who is on the faculty. The university has two campuses – the old campus downtown, and a newer campus about a 15-minute bus ride to the west end of the city. Our family lives in a faculty apartment on the "old campus" of China West Normal University. Some of our students will live in this part of town while others will live closer to the new campus, where our classes are held.
Goshen College's Study-Service-Term began in 1968, and the program in China started in 1980 after several years of effort. The new book Recollections of a Sectarian Realist by former GC president J. Lawrence Burkholder includes a chapter about how the Goshen program in China came to be.  It was groundbreaking at the time as one of the first North American study abroad programs in post-cultural revolution China, and required careful negotiations. First held at Sichuan Teachers College in Chengdu with students living in foreign student dormitories, in 2009 the Goshen program moved east to the smaller Sichuan city of Nanchong where China West Normal University has hosted the program since and helped the college achieve its goal of students living with host families in China. In the book Burkholder shares his early pitch to various Chinese embassies. "I explained…that our students were going to various parts of the world to try to learn about the cultures and languages of other people. I also said that we all hope for peace, and our hope was that a student exchange might help to bring about a better relationship between China and the United States" (p. 178). He later reflected, "Through our study service program, we were in on the early stages of something important in China, though it has not been clear exactly what that was. I have done a little reflecting about what happens when one starts something: history takes over, and the instigator does not know if it is for good or ill" (pp. 183-184). I am grateful for the vision of Burkholder and other instigators, and agree they began something important here in China – and I believe it's for the good. The 2017 SST group is privileged to now be part of this story.