Download the Career Planning Guide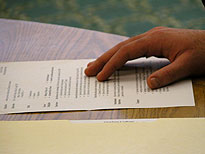 Résumés
A résumé is a one- or two-page summary of your education, experience, skills, and accomplishments. It is a marketing document whose purpose is to earn you an interview.
References
Once an employer narrows their list of potential candidates, references are often the determining factor for which candidate gets offered the position.
Cover letters
A cover letter should accompany every resume you send out. The purpose of the letter is to introduce you and your resume to a potential employer.
Interviews
After submitting your cover letter and résumé to an organization, the next step will likely be an interview. The key to having a successful interview is preparation.
Eportfolios
An eportfolio is a personal website that showcases your experiences, skills, accomplishments and interests.
LinkedIn profile
LinkedIn is the go to site for professional social networking. It's a huge searchable database of employers and employees, designed to help you combine information, analytics and information.