A résumé is a one or two page summary of your education, experience, skills, and accomplishments. It is a marketing document whose purpose is to earn you an interview. It should be brief and tailored to meet the needs of the specific position and organization to which you are applying. Because recruiters often spend less than 30 seconds initially screening a résumé, it must be formatted so the recruiter can find the information they need quickly and easily.
Resume Writing Workshops are offered each semester and students can book individual appointments with the Career Networks Coordinator for one-on-one instruction as well (careers@goshen.edu).
Additionally, be sure to use this information to update your online LinkedIn profile.
Key elements of a résumé
Contact information: How can you be reached?
Identify yourself and provide several ways employers can reach you:
Legal name
Current address
Telephone number (usually cell)
E-mail address (not your work e-mail)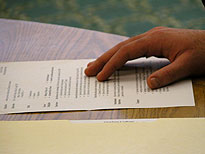 Objective (optional): What are you looking for?
In one focused phrase, summarize your goal for your employment search. Your objective may be oriented to:
The position ("Seeking position as case manager providing service to the aged.")
Your field of study ("Position working with youth in the social services field.")
Your skills ("Seeking position utilizing my skills in counseling, research, and writing.")
Education: What have you learned?
College(s), degree and major(s) (or anticipated degree with graduation date)
GPA (if 3.0 or higher)
Special qualities of your education, including course highlights and certifications
Work and related experience: What have you done?
List employment, internships, and voluntary service in reverse chronological order (most recent first)
Position title, organization name, and dates of employment
Description of work performed — emphasize accomplishments and skills you developed (not just a list of everything you did)
References: Who can testify regarding your qualifications?
3-5 individuals who can speak about your skills and qualifications
Include references on a separate sheet of paper from your résumé; place your contact information at the top of the page in the same format as your résumé (view a sample)
Always ask permission BEFORE using someone as a reference! (read additional tips)
Résumé templates
Career Services has developed several templates in Microsoft Word that you can use to make creating a résumé easier!
For current students and recent graduates:
For alumni and others with significant professional experience:
After filling the template with your own information, we highly recommend personalizing the template by changing the font, adjusting the margins, adding or deleting sections, etc.
Résumé Samples (GC Students)
Tips & suggestions
Consider the following tips as you create and format your résumé:
Use short, concise phrases (not complete sentences)
Eliminate complete sentences and the use of pronouns and articles (I, me, we, a, the)
Incorporate enough blank space to ease reading
Utilize industry specific language and terminology
Tailor your résumé to the specific position you are applying for. Review the job description and qualifications; make sure your résumé demonstrates the required skills
Use action verbs to strengthen your résumé
Use a readable and familiar font (e.g. Times New Roman, Arial, Helvetica). Except for your name, type size should be uniform and sized 10-12 point
If at all possible, condense your résumé to one page
Résumé assistance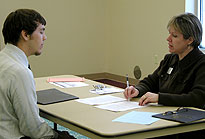 Career Services has several ways to assist you in creating your resume:
Make an appointment with the Coordinator of Career Services, who can help you brainstorm ideas or review a draft
Participate in mock interview events and career fairs and have your resume reviewed by a community professional

.

Check out the Career Planning Guide for a quick glance at some of the most important career readiness tips!
If you're writing a résumé that will be sent to another country, review our international résumé resources
The Good Library has numerous resources giving advice on writing résumés. In the library catalog type résumés employment in Browser and choose "subject"