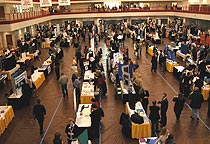 Career fairs provide an excellent opportunity for learning about employment opportunities, networking with potential employers, and practicing interview skills. The setting is more informal than an actual interview and allows candidates to meet with several organizations in a short period of time.
Upcoming career & internship fairs
Preparing for a career fair
Review the list of participating employers:
Write down the top 6-8 organizations you would like to talk with.
Research the employers:
After choosing your top organizations, spend a couple minutes on each organization's web site. Review mission statements, current events, and learn about products or services offered. Recruiters are impressed when students can demonstrate knowledge of their organization.
Create or update your résumé:
Take at least ten copies with you.
Practice your 30-60 second intro:
Develop a personal "infomercial" to introduce yourself to recruiters. Include your name, college, major, graduation date, a summary of your top skills & abilities, and your purpose for attending the fair. Practice with a friend or a member of Career Services.
Decide what you will wear:
First impressions count. Traditionally, dark suits are recommended for men and women.