Kampong Phluckers: Audrey and Joel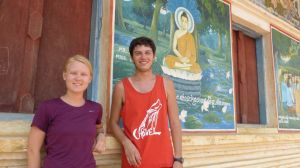 Audrey and Joel are in Kampong Phluck (spelled and pronounced in a variety of ways), the remote, stilted village along the Tonle Sap Lake. The entire SST group visited the village when we were in Siem Reap back in early February (see the entry on Kampong Phluck there for more overview photos). Joel and Audrey live just down from the village's wat in homes on 20-foot stilts located just across the dusty street from each other. Since this is nearing the end of the dry season (the rainy season begins in May), most of Kampong Phluck's stilts are exposed at this time, and only a thin river runs through the village to the Tonle Sap.
The two Kampong Phluckers are teaching first-graders — a real challenge — at 10 a.m. each morning and then fifth-graders at 4 p.m. each day, six days a week. Often their classrooms are interrupted by well-meaning Western and Asian tourists who visit the village, purchase "essential" notebooks for the children, and then take them to the classroom and hand them out to the students, who play their role well and accept them graciously. Immediately after class the students sell the notebooks back to the women who market the overpriced notebooks so they can be cycled through the next round of unsuspecting tourists. It's a system that works, and helps provide a bit of money to people in the village.
When tourists come to town — and there are exotic tours from Siem Reap to Kampong Phluck daily — they are always surprised to see Westerners living and teaching in the village alongside their Cambodian hosts.
Joel — who has lost a bit of weight since his arrival in January — lives in a home with his host parents, four siblings, his siblings' spouses, and a number of nieces and nephews. Serei, a former monk who is now a Community Tourism Leader, is married to one of Joel's sisters, so Joel sees a lot of Serei and his two young children. Joel's family also has a generator that charges car batteries so villagers can get a bit of electricity to turn on a light at night or watch TV.
Between classes, Joel and Audrey generally sit on Joel's high front porch, reading books and napping, though sometimes they enjoy walks down to the edge of the Tonle Sap Lake or bike rides to the nearest small town.
Audrey's family includes her mother Yewn, father Nii, Sister Niet (19), sister Noot (17), brother Pii-Sey (14), and Niet's baby Bonhadt (1). Her dad, Nii, and sister Noot often go fishing together and are gone for a few days at a time. The family also cares for a multi-pond fish farm behind their house, sometimes rising at 1 a.m. to catch fish for the next morning's market. Audrey shares a bed space with her sister Noot, but Joel has his own floor mat. Ask Audrey to tell you about her 2 a.m. wake-up call she had when 20 people were gathered in her home, encircling a moto driver who had fallen into one of the ponds with his moto and the night's catch, breaking his leg badly.
As is true for their SST peers, Joel and Audrey are thriving in Kampong Phluck, teaching well, and learning lots in the process.
This weekend students have a couple of get-togethers planned. Jessie, Maryn, Carina, Lauren, Jacob, and Jake are visiting Nate and Brett here in Phnom Penh — Lauren and Jacob stopped by the Graber Miller apartment this morning — and Henry and Renae are hosting Sara K, Joel, and Audrey in their home village. The Ratanakiri Five are preparing for a guided jungle trek. Ann and Keith leave Sunday for Kep, where they will visit Carina and Maryn. Please be sure to see today's post about Sara K and Jake's placements in Siem Reap Province also.