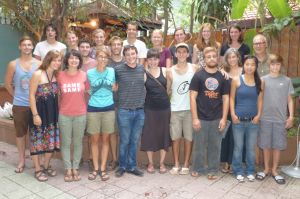 Just minutes ago, 10 Cambodia SSTers left for Goshen after a final group meal and a full group photo. Eight SSTers stayed behind for an overnight at a guesthouse and then some free-range traveling in Thailand, beginning tomorrow morning.
Cambodia SSTers all returned to Phnom Penh Friday, joining Nate and Brett, whose service assignments were here in the capital, and also Kate, who had returned early with her Ratanakiri family for a wedding in nearby Takeo. All arrived in good shape and positive spirits, ready to return to their city families but already missing their hosts in the countryside.
Since Friday afternoon the group has been together much of the time for its closing reorientation/dis-orientation and final retreat. Saturday morning all 18 SSTers sat for final oral exams, with two Khmer teachers and sometimes their student peers asking them questions, in Khmer. Each student presented for about eight to 10 minutes, telling in Khmer what they had been doing over the last six weeks, what they ate, and what their families were like.
Some of the other group gatherings were at the Graber Miller apartment Saturday afternoon, where we told service stories and began doing our 18 project presentations. Students all spent concentrated time working on a specific project related to Cambodian culture. Some of these were poetic, some involved singing traditional songs or composing music, some were more traditionally "academic" and involved book research as well as observation, some involved birding or the environment, some examined family or gender dynamics in their villages, another involved deaf culture. All were well done and evidenced good attention to a specific issue.
Sunday morning students all said farewell to their Phnom Penh host families, then headed to the Graber Miller apartment and then to the Frangipani Hotel. Group presentations took place all day at the Frangipani, followed by individual interviews. Keith and Ann did final interviews with each of the 18 students, talking about the impact of their experiences, responding to their journals, and discussing vocation.
This evening the group celebrated with a final meal at Yumi, and then Ann and Keith accompanied 10 of the SSTers to the airport and said farewell to the eight who will be traveling in Thailand. Two Cambodian host families — Brett's and Sara K's — met us at the airport to say one final goodbye.
The 10 SSTers heading directly back to Goshen will arrive on campus between 3 and 4 p.m. Tuesday afternoon. The Graber Millers will leave Phnom Penh Wednesday evening and arrive in Goshen Thursday afternoon (after gaining back 12 hours, just as the students do: the actual trip is about 28 hours).
So, SST comes to a close for the Spring 2013 Cambodia SST group. Blessings to all of the SSTers as they move forward into the next phase of life. Please welcome them home graciously, and hear their rather remarkable stories. Thanks for following our journey.