Brett and Nate in Phnom Penh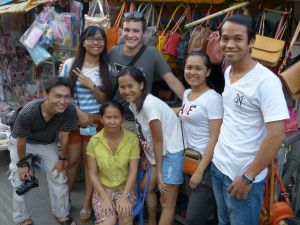 Nate and Brett's service assignment kept them right at home in Phnom Penh, living with their host families from the "Study" portion of SST and working with a "Get-Out-the-Vote" campaign. Cambodia's national elections are slated for July 28. Prime Minister Hun Sen, 61, said he believes the ruling Cambodian Peoples Party will again secure two-thirds of the parliamentary seats in the forthcoming election. Mr. Sen, who has been in power for 28 years (since shortly after he left the Khmer Rouge, where he had been a leader, to return with the conquering Vietnamese in 1979), has vowed to remain in power until he is 90.
This spring the political situation in Cambodia is rather volatile. Sam Rainsy, 63-year-old leader of the opposition party the Cambodian National Rescue Party, fled the country in late 2009 before a Cambodian court sentenced him to 11 years in jail in abstentia for two counts: removing border poles and publishing a false map of the border with Vietnam. Some countries, including the U.S., have said the conviction of Rainsy was politically motivated. But because he is a "convicted criminal," he is not about to run for parliament. A month ago the ruling Cambodian Peoples Party announced that some its older members of parliament would be forced to resign by the party, replaced by sons of Prime Minister Hun Sen (perhaps three of his sons) plus sons of the CPP's other leading members of parliament.
The Extraordinary Chambers of the Courts of Cambodia (ECCC) continues to attempt to try leading cadres from the Khmer Rouge period, though the trial has been besought with life-threatening illnesses — co-defendant Ieng Sary died three weeks ago — threats of strikes, and other issues. On trial yet are 86-year-old Nuon Chea and Khieu Samphan, both charged with war and genocide crimes.
Land-grabbing and related forcible evictions are in the news almost daily, with the government and large corporations being sold land out from under poor families in the city and the countryside. Major chunks of forest preserves are being decimated by supposedly illegal logging: one major preserve lost 70 percent of its tree coverage over the last five years, it was reported yesterday. It's an interesting political time to be in Cambodia.
Nate and Brett are working with an NGO that seeks to get people in the city and out in the provinces to vote in the July election. Much of their work has centered on grant-writing. (Their main qualification, according to Brett, is that they can speak English.) The grants they have written — to a German foundation, the U.S. Embassy, and other organizations — have resulted in about $100,000 in income for the non-partisan campaign. They also have helped edit letters and other materials being sent to English-speaking audiences, and have had a chance to meet with some of the country's leading politicians.
Brett and Nate's work has been somewhat erratic, with some very busy days of four or five hours of work and other days when there is little to do, as is typical of other service assignments. Usually they work at internet shops or coffee shops, but occasionally they attend meetings, take notes, or visit the U.S. Embassy.
Brett also took the opportunity — with special permission from SST leaders, his parents in the U.S., and the SST office back home — to take a four-day trip to Thailand with his host sister, Neang Nana, our local SST assistant, as well as one of Nana's sisters. Nana's family owns a small market shop in Phnom Penh, and Brett went to help carry the loads of purses and shoes they purchased in Bangkok for selling at their shop here in Cambodia. In spite of nearly 24 hours of bus travel both ways, Brett enjoyed the experience of crossing the border into Thailand.
Brett sleeps on a floor mat with his 17-year-old brother David, and helps out from time to time at the family's market shop. On occasion both Nate and Brett have attended Edutainment — the Saturday and Sunday afternoon English-teaching group that Nana and Panya run — though that has not usually been a part of their service/accompaniment.
Nate's family lives in the center of town, fairly equidistant from a number of key locations. To get into his family home, Nate has to walk through a rather scary, dark hallway, then up the stairs into the house. Nate shares a room with his 20-year-old brother Deth (pronounced Det).
Students are in their last week of the "Service" portion of SST, so Nate and Brett's peers will return to Phnom Penh from the provinces this Friday. Kate already is in nearby Takeo, with her Tampoun family from Ratanakiri Province, so she will return to Phnom Penh already on Wednesday rather than take the 12-hour drive up and 12-hour drive back to and from Ban Lung. The weekend will be filled with project reports, individual interviews, journal reading, two nights with Phnom Penh host families, group meals, and final farewells.