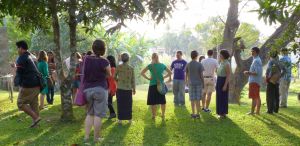 Since students leave for their service assignments this Friday, last evening (Sunday evening) we threw a family celebration at the countryside home of Sreyhem and Mike Roberts. Sreyhem is an NGO consultant in Cambodia, and in 2007 and 2010 was our local family assistant. Her husband Mike is the director of IDE, a local NGO that has hosted/is hosting students on service assignments during all three Cambodia SSTs. Sreyhem continues to be an important consultant for our program, even though family responsibilities have been turned over to Neang Nana.
About two-thirds of the families met at the Graber Miller apartment complex to take a bus to Sreyhem's, and other families went directly to her home south of the city. Sreyhem had arranged for a catered buffet meal, and we hired a band to sing and play for the event. Students and families seemed to enjoy the informal interaction. Jake and his family were unable to come, and Maryn and Corey came without any family members.
Among the highlights of the evening were: observing Renae and her host sister use Cambodian Sign Language, American Sign Language, and "home signs" to communicate; playing with Jacob M's baby brother; hearing Henry and Sara K. give eloquent thank-you speeches, entirely in Khmer, for the host families; jumping on the trampoline (Seth is really extraordinary at this); and hearing the students sing "Arrapia" for their families.
After the meal, families and students danced the evening away, with the band singing and playing Cambodian music and Nana, her boyfriend Panya (Sara K's brother), and others teaching students some Cambodian dances. People of all ages enjoyed the dancing, and even Ann, Keith, and Simon joined some of the dances, in their awkward way. Mia took most of the photographs in this blog.
The meal and dance event was to thank our host families for welcoming SSTers into their homes and lives so generously and graciously. This past week at P'teah Goshen Night, Maryn tried several times to articulate her gratitude for her family and for the experiences she's having here. After breaking down in tears several times, she finally needed to write down her thoughts, which were read by one of her peers: "The important thing is to try to remember these experiences after these 12 weeks," Maryn wrote. "We will never be able to have an influence on this country or these people that comes anywhere close to the magnitude of the impact that this place and these people have had on us. We have regrets, we will wish to do more, but ultimately there is no way to repay our debt to Kampuchea."