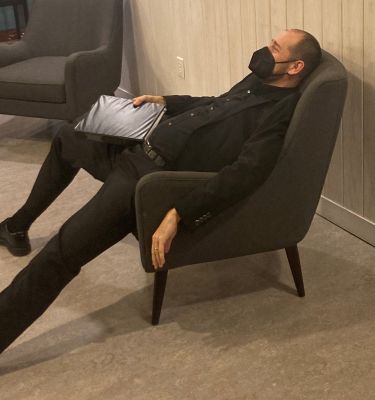 What a day. We knew it was going to be a big one, but little did we know just how much was in store for Vox.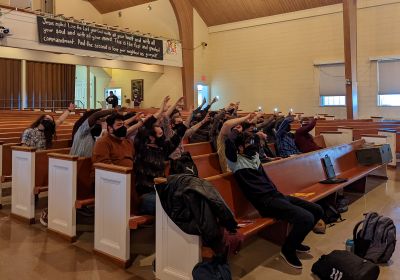 We began as usual. After having breakfast with our host family, my roommate and I walked back to the West Philadelphia Church since we only were a few blocks away. After a thorough sweep of the church and an abysmal attempt at beating our count-off record, we were off to our first school of the day. We arrived at Dock Academy shortly before 11, and after a quick warm-up, the students began piling in. A shortened program was selected for the schools, as many of them didn't have the time for a full run of our repertoire. After the chapel performance, the Dock Academy choir students stayed behind. We sang two songs with them, and then they performed two songs for us, starring singers Marcia Yost (Alto) and Scott Hochstetler (all parts). We made sure to show our support for the younger choir by waving our arms and giving them a standing ovation after their performance.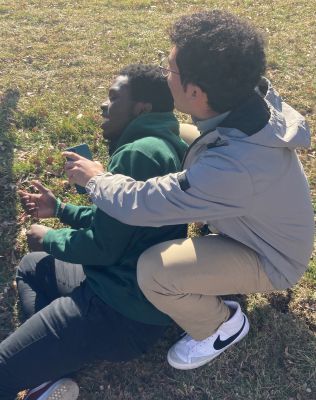 After a box lunch from the Dock cafeteria, we quickly left and made our way to the second and final school for today, Lancaster Mennonite. Due to some nasty traffic, we didn't arrive until right before we were supposed to perform, so we had little to no warm-up or rehearsal available to us. Despite that, we gave a stellar performance in Lancaster's auditorium space, which was the largest one we have performed in so far. After school let out, there was a little bit of time before we departed. Our search for a playground proved to be fruitless, so we decided to play a rousing game of tag in the back parking lot. We were running around, laughing, sharing jokes (Dontaye didn't know what getting "ratioed" was), and having a great time overall. Then tragedy struck. Jonah King, '23, tripped and fell while running. After getting up and walking around for a little while, we saw his neck. The collarbone was sticking out at an angle that wasn't normal. He was taken to the hospital by Marcia, and we had to leave on the bus without him. Despite his absence, and at Scott's urging, we set a new count-off record of 9.87 seconds.
We were delayed drastically by this unfortunate turn of events, and arrived at our final destination, Hyattsville MD, around 6:15 p.m. to eat, change, and get ready. After a meal of chicken, rice, lentils, and and a crazy cheeseboard, we all began to set in for our final performance, sans one of our first tenors. We received updates on Jonah throughout the day, and we learned that the x-rays showed that he did in fact break his collarbone. We decided to perform in honor of Jonah, who would be coming to Maryland from Pennsylvania, but staying with his aunt who lives nearby. The performance was good despite us all showing signs of tiredness and stress, from a long day of performing. After the concert, we scrambled to find our host families since we didn't have Marcia's list, but everyone found a place to stay, and headed off for a much-needed night of rest.
We're over the largest day though, and I know I am looking forward to the day off in D.C.
– Joseph Mounsithiraj