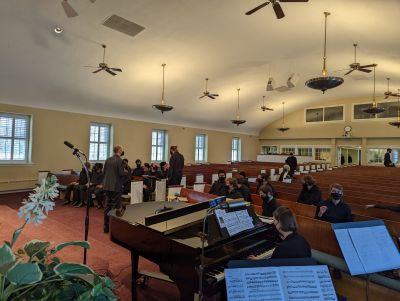 Vox Profundi's choir tour continued with our first day of performing. I awoke at 7:00am (which is technically considered sleeping in compared to yesterday) to my roommate having stolen all of the covers from me in the bed we shared. Besides this, it was a good morning with a good breakfast and conversation with our hosts. Vox members then headed back to Plains Mennonite Church to perform a handful of songs from our repertoire during their morning worship service. Afterward, we spoke with members of the congregation and had a lovely lunch of sandwiches, apple sauce, and potato salad provided by the church, before loading back onto the bus to make our way to Four Mills Nature Reserve.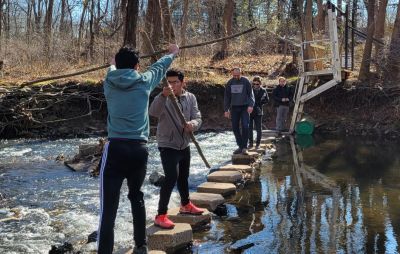 It was there that we had a small hike/nature walk on a trail akin to the trails in the woods by the Millrace. It had dead trees hanging over creeks, dog walkers, and mud – lots of mud. There was slipping, sliding, and ruined converse low top sneakers. Several Vox members also found walking sticks, which very naturally turned into swords to playfight with – we are college students after all. When we got back to the bus, we did another attendance count off with the hopes for a time below ten seconds, a five second drop from our PR. Unfortunately, we got a tragic time of 10:14.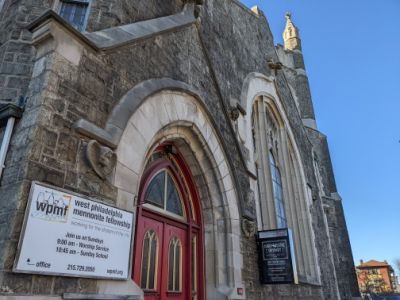 Then, it was off to West Philadelphia (born and raised) Mennonite Fellowship. Along the way, we played a game of charades, even getting Scott and Marcia to join in. Upon our arrival at the church, we unpacked and started practicing our music. The building was gorgeous. It looked like a castle, with grand stone walls, stained glass windows, intricate railing and ceiling designs – not at all what you would expect from a Mennonite church. We ate a dinner of curry, salad, and cupcakes made by members of the congregation, and began the first performance of our entire repertoire. Our legs and throats hurt by the end of it, but it was very fun to get to present everything we have been working on this year.
After that, all of us went to stay with our host families, where we would hopefully go on to spend the night untroubled by blanket thieves.
–Lukas Bontrager-Waite