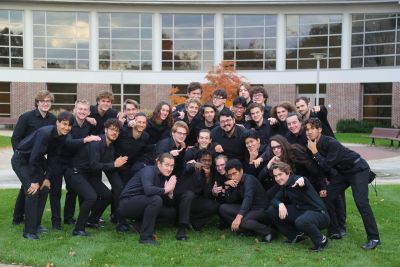 It's the night before the Vox Profundi choir tour commences, and I'm a bundle of nerves, excitement and sadness. I'm nervous for all the tour details, including performances, homestays, COVID logistics, travel issues, student health and much more.  But I'm also excited for many of the same reasons.  We have so much to be thankful for—we're touring and sharing our art and faith finally after two years! I'm excited to see friends, family and alumni, sing in wonderful schools and churches who recently have begun to worship in person, and I'm excited to meet new hosts out east. I'm excited to visit DC again, a city full of history and vibrancy. I'm even excited for bus travel with my students!
My heart is also heavy. I'm especially thinking of my Goshen College colleague Solomia Soroka and her incredible country of Ukraine, currently being bombarded by the ugly tools of war. I fear as she does for her family, friends, countrymen, and for the future of her country. And I feel helpless. In times like this, I think of the words of American conductor and composer Leonard Bernstein, who, immediately following the assassination of John F. Kennedy, said, "This will be our reply to violence: to make music more intensely, more beautifully, more devotedly than ever before."
This is what we will strive to do this week.  May God grant us strength on the journey.
–Dr. Scott Hochstetler, Director of Vox Profundi