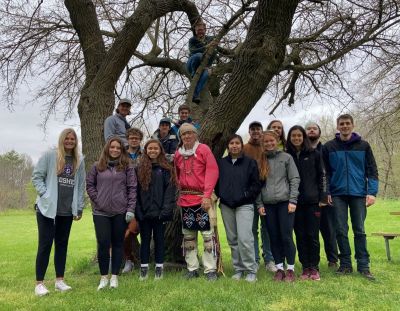 This post is written by Gabriella Jantzen, a senior Biology major from Granger, Indiana:
Earlier this week, the 15 students in our Indigenous Economies class began our first camping excursion. Before we left to set up camp, we made our first stop at Baintertown Park where we spent the day listening to the words of George Godfrey. Our guest speaker, George Godfrey is a Bergeron family descendant and is among the Citizen Potawatomi Nation of Oklahoma. After a lengthy educational path from a bachelor's degree in Biology to a PhD in Entomology from Cornell, he longed to research more about his past. He has dedicated the last 30 years of his life researching the history of the Potawatomi people and our class was eager to hear all about it.
Early in his presentation, Godfrey told our class a story about the importance of sharing resources among all living things. He starts off by introducing different animals, brother rabbit, brother bird, and so on. He then introduces the rose bush that is supposed to be shared among all the animals in the forest. However, brother rabbit ate all components of the bush including the roots, stems, and blooming flowers. This meant that brother rabbit didn't share and left nothing for the other animals. He finished his story by saying that this is why rose bushes have thorns, to help remind all animals the importance of sharing among the whole community.
Even though we all enjoyed his light-hearted spirit and intriguing stories, he also left us with some sobering moments as well. He came to Baintertown Park in clothes that he had handmade himself. When we asked him about each article of clothing, he was able to tell us what it was made out of and how he made it. Some of his attire included a cotton hand sewn pant and shirt, beaver claw necklace, and deer skin moccasins. He then looked at all of us and asked if we had anything on today that we had handmade and unfortunately no hands were raised. This helped prove his point that one of the many economic shifts between the time of his people and today is that his people were able to produce much of what they used and had things because they needed them.  But nowadays we have things because we want them.
As the day came to a close our class was able to share lunch with George where we snacked on some local pizza. One of the pizzas we got for our class was vegetarian, and as we waited to be served George told us that vegetarian is a Native word. All of us were intrigued and insisted on knowing what this word meant. He replied "Bad hunter."
George Godfrey was filled with insight, humor, and knowledge that cannot solely be described in one singular blog post. However, the 15 students in Indigenous Economies are so thankful to have learned from him that day in Baintertown Park.