Saturday May 8, 2021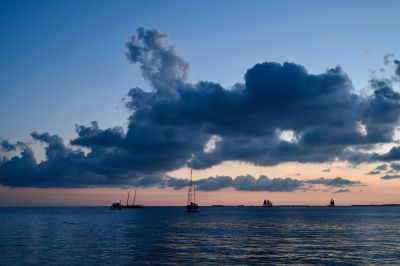 We started off our morning with a discussion on positive interactions and how they may pertain to our work. One type of a positive interaction is mutualism; this is where both species benefit from the interaction. An example of this in the marine system is with decorator crab and sponges. The decorator crab will often use sedentary plants and animals, such as sponges, and put them on its back to camouflage itself from predators. In this interaction, the crab benefits because it avoids being eaten and the sponge benefits because it is exposed to other feeding opportunities based on the movements of the crab. We saw plenty of decorator crabs (Microphyrus bicornuta) when snorkeling in the field.
We then moved to sharing our modified research methods and questions. We were able to receive feedback and gain more clarity on how we will go about conducting our research in the fall. After our discussions, we ate lunch, worked on some homework, and then all piled all into the van to head to Key West.
Once we arrived, we walked up and down the streets, looking at all the different shops that Key West has to offer. Several of us had been to Key West before, but the atmosphere is something that I do not think any of us are used to. After a bit of walking, we all went out for dinner at a patio restaurant and were able to enjoy some live music as well. Once we finished dinner, we walked around a bit more and then went to get ice cream before going to Mallory Square. We enjoyed watching the sunset, took some pictures, and then watched a couple of street performers, before heading back to the van to Layton.
Overall, I enjoyed being able to take a small break from all the work that we had been doing. I also enjoyed visiting Key West again, as it is a unique experience to say the least. I am definitely looking forward to going again sometime in the future.
–       Madison Miller '23 (Environmental & Marine Science)