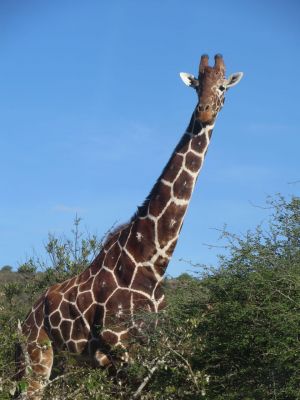 Wednesday May 7th, 2014
I just have to begin with this – I am so happy that I am doing a blog on this website.  So then lets continue and see what happened today (7th May of 2014).
By 9:00 a.m we were at the KLEE plots (Kenya Longterm Exclosure Plots) and like almost everyone in this group, I arrived at the plots with no knowledge of grass species. In just about 5 minutes, we were all able to give a description of 6 different grass species like the back of our hands. Our goal today was determine how fire and grazing affect grass composition.
What is more interesting, we saw two bush-babies, with tiny faces and little hands, they were clinging to each other as if to protect one another from the danger that had presented itself (us)… So cool, right? The fascination made me imagine that these tiny beings knew what the definition of affection was.
On our way back from the field to the Rivercamp for the much anticipated lunch, we encountered an elephant, just by the roadside. Oh yes we were hungry, but watching an elephant at such close proximity was worth foregoing lunch, definitely!!! We only motioned Donna to drive off when the elephant began to show aggression, can you imagine the aftermath of an elephant attack? Huh!! I have learnt a lot from the afternoon paper discussion and I am sure everyone else has. The course is just so much fun…. time for me to write off. Kwaheri!!!! (Bye)
Everlyne Mideva – Karatina  University – Wildlife Management 2015