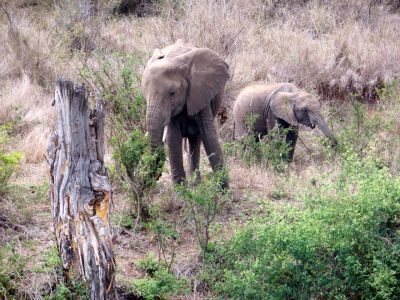 Tuesday, May 6th, 2014
Today marks almost a week since we have arrived in Kenya. The morning began with breakfast prepared by Agnes and the wonderful Rivercamp staff. We then headed out in the land rovers to complete another day of research. Today's research focus was to determine if the four ant species that reside in Whistling Thorn trees evacuate from their swollen thorns upon smelling smoke. We used a bucket of burning grass to create smoke and quantified how each ant species behaved downwind. (We are finding that some species can smell smoke 500 meters down-wind and evacuate their tree!). After our research was finished, we found 3 chameleons, which soon became the group pets.
On the drive home, we saw a lot of wildlife including zebra and giraffe. Seeing these large animals every day is quite amazing, especially when we've only seen them in zoos. When we got back for lunch, we witnessed at least four elephants just across the other side of the river. Everyone took time to take pictures and watch the elephants munch on some trees. Some of the students tossed around the frisbee for a while during break time, enjoying the beautiful weather. There was one rain cloud that passed over yesterday, which lasted for about half an hour. The afternoon was filled with conversation, delicious cake, coffee, and tea. We had a delicious dinner, and some students relaxed around the fire in the evening, getting to know each other and enjoying conversation.
– Jessie Smucker, Environmental Science – GC 2015