Arriving in a foreign country is always surreal. The magic of contemporary media gives us endless access to photos and videos from nearly anywhere in the world; but until you visit a place, those images will be about as a "real" to you as the CGI dragon at the end of Peter Jackson's Hobbit movie.
My jet-lag only contributed further to this dreamlike state as I peeled my exhausted, sticky body from the cramped British Airways seat. When the boarder officer asked what I was doing in this country, I nearly asked her – "what country am I in, again?"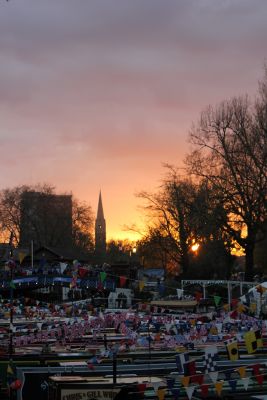 Oh, right. England.
Even as a mildly experienced world traveller, walking into London felt much like walking onto a movie set. While double-decker buses whizzed by and uniform-wearing school children chortled together in British accents, I half expected a balding little film director with a Brooklyn accent to call "cut" and demand additional takes.
This is Arts in London, an academic program that brings students to London and gives them an "arts allowance" with which they can see theatre productions, concerts, art galleries, films, or anything "arts" related. "Arts broadly defined," as one of the program leaders – Doug Caskey – likes to emphasize.
So far, I've visited Buckingham Palace. I've hovered over the Rosetta Stone in the British Museum. I've seen the European premier of an independent Science Fiction film at the British Film Institute. I've laughed myself senseless at a stand-up event hosted in a tent purposely fashioned after bovine udders. I've seen Martin Luther King and Oscar Romero venerated as martyrs on the walls of Westminster Abbey, just before I enered to worship and take communion.
If this is a dream, I never want to wake up.
– Nathan Vader