Caravans from the interior brought slaves and ivory to Bagamoyo. From Bagamoyo town they were shipped to the island of Zanzibar where they were sold–approximately 1.5 million humans in the 19th century (Lovejoy 1982), not counting those who died before being sold.  Slaves worked the coastal and spice plantations of Zanzibar, sugar plantations on the island of Reunion, and were sent to Arabic countries, India, and Persia. (Very few from East Africa ended up in the Americas).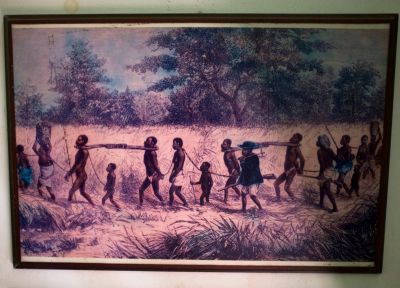 It is no accident that the first Christian church on the East African coast was founded at Bagamoyo (1868).  The aim of the Roman Catholic Spiritan fathers was to ransom slaves, and they established a church and a "freedom village" at Bagamoyo where freed slaves were resettled, eventually liberating about 3600 humans.
We toured the museum at the site of the first Spiritan church.  Only one tower remains from the first church.  It's a memorial now to David Livingstone–explorer, missionary, and abolitionist.
Germany was the first colonizer of Tanzania, known at that time as "German East Africa", and Bagamoyo was their capital from 1886-1891.  We viewed the old German Administration Headquarters, and passed by their garrison.
We stayed at the Travel Lodge in Bagamoyo in bandas on the beach.  The ocean felt like a heated pool. When she found out he had never been swimming, let alone in the ocean, Cecilia–who is a certified swimming instructor–offered to give our guide a lesson.  Bagamoyo is also a center for dhow-building and fishing.
The national college of arts, TaSUBa, Tanzania's premier institute of traditional dance and music, put on a dance performance for us.  Their students and faculty played pentatonic xylophones of the Zaramo, flutes from Dodoma, and put on dances from all around Tanzania.  They were dancing and playing hard for almost 2 hours while the audience sweated just sitting still!  Everybody dances at the end.
A final visit the next morning before we returned to Dar was to a crocodile sanctuary, where we saw wildlife beyond just the crocs.  The owner trains people to work with his crocodiles (which are not for sale).