Ariel and Kaeli in Nyabange
Ariel Ropp and Kaeli Evans are living in the small village of Nyabange, which is about a 15-minute drive from the town of Musoma.  This has also been our home, so we've crossed paths with Ariel and Kaeli on the weekends when we were not traveling to visit other students.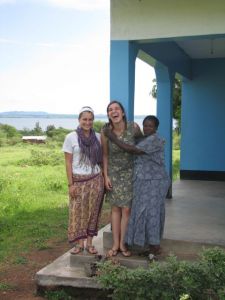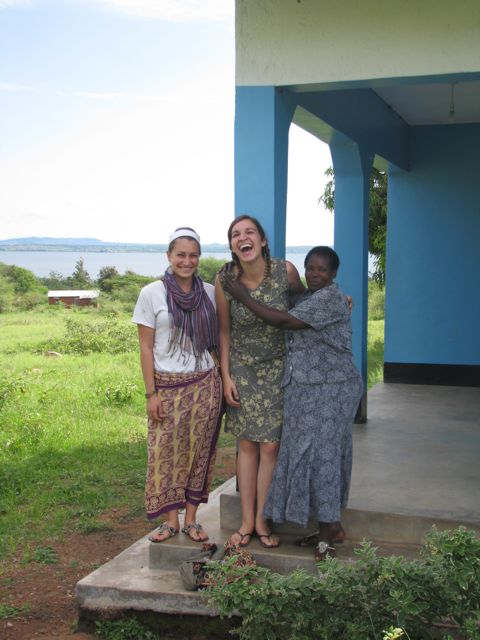 Nyabange is home to the Mennonite Theological College of East Africa (MTCEA), which is a seminary that provides training in biblical scholarship, church history, peacemaking, and English/computer skills.  MTCEA has been gracious enough to offer us one of their houses, which has been a wonderful home for us.  Additionally, our service term coordinator, Emmanuel Mwita, serves as the college's Vice Principal and has been instrumental in setting up and helping oversee the service assignments throughout the Mara region.  Thanks MTCEA!
Nyabange is also home to Bishop Christopher Ndege's office and the Nyabange Mennonite Church.  We would like to thank Christopher for the use of the church's Land Cruiser, which his office generously provided us, enabling us to visit the students as a family.
Ariel has been working at MTCEA and living on campus, both teaching English and also helping in the library.  For the first three weeks, she kept busy with preparing lesson plans, teaching, grading, and helping students as they had questions.  She also enjoyed attending daily tea with the faculty and students at 10:00 a.m., followed by an hour chapel service.  Ariel's project has been to do a comparative analysis of Tanzania and North American theological approaches to Christianity and she has really enjoyed the conversations with the students and faculty.  During the second half of her time at MTCEA, Ariel helped in the library cataloguing and organizing an entire closet full of books that awaited sorting.  She is working closely with the MTCEA librarian, Helen, who has become a good friend.  We heard from numerous students how much they appreciated her teaching!
Ariel lives with Mama Perusi, MTCEA's accountant, and her family on the edge of campus overlooking the lake.  We had a wonderful tea and meal with Mama Perusi, who is a warm and welcoming spirit! It is hard to determine who has more affection for the other —- mother or daughter!  Ariel has truly immersed herself in community and church life and has joined the choir – attending practices several times a week.
Kaeli also lives in Nyabange about 200 meters from Ariel.  She lives with Pastor Eliud & Lucia Monanka and their family.  Eliud serves as the Deputy of the Tanzania Mennonite Church General Secretary and goes to work in Musoma at the KMT offices.  Kaeli has been working at the SCC (Swedish Cooperative Center) Agroforestry center with offices in Musoma and a field and test plot at the edge of Nyabange.  SCC tries to make farmers aware of the benefits in combining forestry practices with agriculture.  By planting certain trees between crops, farmers can increase the nitrogen and organic matter in soils, enhance pest resistance, and provide future fuel-wood for use in their homes.
Kaeli spent the first several weeks working at the SCC farm helping do soil tests, planting corn, and prepare planting beds.  We spent several hours with Kaeli touring the farm and were introduced to the various integrated approaches to agriculture including: beekeeping, use of green manure, crop rotation, and irrigation using a simple low-tech windmill.  We also visited the main offices in Musoma where Kaeli has been working to help craft a sustainability plan for how the SCC farm can increase their long-term viability.
Our day culminated with a lunch together in Musoma where we shared stories of our various experiences over the last five weeks.  It has been fun to have Kaeli and Ariel as neighbors here in Nyabange!