Shirati – Karla, Leah, & Lydia
Shirati is a town of historical significance for the Mennonite Church in Tanzania.  It is one of the oldest centers of missionary presence in Tanzania, with the arrival of Mennonites in the early 1930's.  Today it continues to be a thriving Mennonite community with the Shirati hospital and SHED (Shirati Health Education & Development Foundation).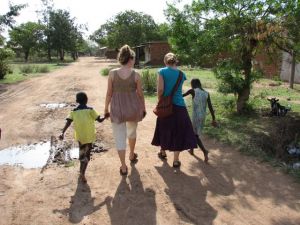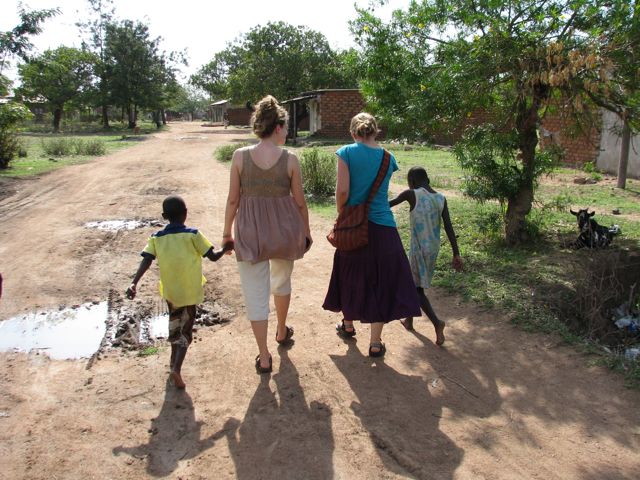 Three Goshen students are serving in Shirati, Karla Folker works at the Shirati Hospital, Lydia Yoder is volunteering with SHED, and Leah Thill has been teaching at Zappe Kindergarten School.  All three students live within several minutes walk of one another and have very much enjoyed their host families.
While visiting Shirati, we stayed in the SHED hostel where we slept and ate our meals.  What a great place to spend a few days!  The kids could run outside chasing the goats and cows, and we had some time to catch up with the students in the large living room at the hostel.  A highlight was having "an American meal" with the students at Dr. Esther and Josiah Kawira's house; Esther runs the clinic and Josiah directs SHED.
Lydia's work with SHED has been to initiate a tree-planting project designed to improve the community's access to fuel-wood.  She has single-handedly planted more than 2000 tree seedlings, which will later be planted on church property to aid members in finding affordable and sustainable cooking fuel.   The process has involved finding and collecting their own seed, scarifying the seed, then planting and watering the seedlings.  Lydia also gave us a tour of the Mennonite Church compound, where we stopped in to greet Bishop John Nyagwegwe.
Mid-morning on Friday we visited Leah at Zappe Kindergarten, where she has been teaching English to 4, 5, and 6 year olds.  Leah's command of Swahili has been quite impressive and this helped her greatly in communicating with her students.  We visited on the last day of school before a 2-week holiday, and the students gave Leah a hearty and thankful good-bye.  Leah will be spending the last week of her time in Shirati visiting and teaching at Katuru Secondary School, where they will make good use of her Chemistry and Biology background!
On Saturday morning before leaving Shirati, we received a tour of Shirati Hospital where Karla has been working.  Karla has rotated through the following departments spending one week in each of the following: maternity ward, the OR, the leprosy ward, the laboratory, and pediatrics.  Karla has loved getting more experience for her nursing career at the hospital, and says that each day she is excited to come to work.  She has watched babies being delivered, conversed with patients in the leprosy unit, observed a variety of surgeries, and helped prepare slides in the lab.  Who knows, one day she may return to Shirati as a nurse or doctor (the next Esther Kawira?)
We left Shirati on Saturday morning around 11:00 a.m. with a full load.  We took Leah, Karla, and Lydia to Mogabiri on our way home in order that they could visit Matt, Alain, David, and Indy in Mogabiri and Nyarero!  The time is flying by, the students are excited to share stories, and before long we'll be together as a family of 22 again!