Nata – Linking tourism, ag, and livelihoods
Nata is a small town of several thousand people on the western edge of the Serengeti National Park. Erica Grasse, David Graber, and Jonathan Mast are living and volunteering in Nata and we visited them on Monday and Tuesday of this week. We arrived in time to share a lunch on the town (at the "TEXAS" restaurant of all places) of rice and meat and chips (French fries) with eggs. It was a great time of story telling about life in Nata.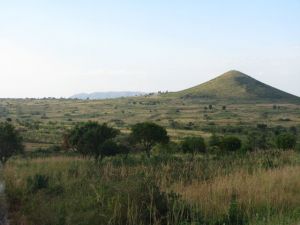 With Nata's proximity to the Serengeti National Park, the challenges and opportunities related to ecotourism are important issues. Many Serengeti communities that used to rely on hunting and wildlife resources before the establishment of the park are no longer able to do so. The Goshen students are involved in a variety of initiatives underway in this community, which seek to address the dual challenges of conservation of wildlife while simultaneously improving the lives of the human communities living next to the park.
Jay is working with the Grumeti Fund, an organization that has established the Grumeti Reserve, which is located next to Nata. The Grumeti Fund bought up all the hunting rights of a large parcel of land and is using the area as a wildlife sanctuary which is home to three high-end tourist lodges (see earlier post). Jonathan is working with Grumeti to enhance opportunities for tourists to visit local cultural centers, which can provide income-generating activities for the communities, such as dancing, craft making, and cultural tours. He is helping craft a proposal to obtain funding from Grumeti to help initiate a cultural tourism site in Nata. In fact he has a presentation to the Grumeti leadership on Saturday! While visiting Jay's office, we saw birds, baboons, and evidence of elephant foraging. (The week prior to our visit, Jay had seen a herd of 30+ elephants from his office window!)
Erica is also working with Grumeti, but on another project. While her main supervisor was away in the field, we had a fabulous discussion with Erica, Richard, and Jonathan about the complexities of linking conservation and development. Erica spends 2-3 days a week traveling to a nearby town called Bunda. Here Grumeti has been working for more than 2 years to initiate a reforestation project on the steep hillside slopes, with the goal of preventing soil erosion, protecting water resources, and providing future firewood resources for the residents. Erica is working with colleagues to interview the local community members to better understand the economic implications and challenges if/when the communities self-impose restrictions of grazing and fuel-wood harvesting in the hills around their homes.
David is working in a small town called Bugerera, about 9 km away from Nata. His work supports the efforts of an agricultural cooperative of 53 farmers that work together to grow vegetables and herbs that are purchased by Grumeti for use in the hotels and among their staff. David spends most of his time working on the farm of the COOP President. He and David took us on a half-day tour of Bugerera, where we were treated to a lush oasis of fertile land that is producing an astounding diversity and plentitude of fresh vegetables and fruit trees. The area is fed by a natural spring, which provides irrigation water to the farmers. We were graciously given fresh avacodos and eggplant, while eating carrots right in the field! We also had the pleasure of visiting each of the students' host families, and enjoyed a wonderful meal with Erica's mother, Mwalimu Neema, who teaches at the local school.
We continue to be so proud and impressed with the students, who are obviously well loved by their hosts. They have each been given local Kinata names: Jonathan is now Mukenye, Eric is Wachota, and David is Mosi. Whether in their houses having tea, or walking down main street Nata, it was evident these three have made an impression on those with whom they have had this great opportunity to live and work.