Anna & Annika teaching in Murangi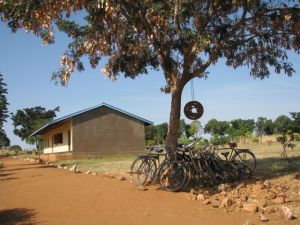 This past week marks our first service visit!  Thursday and Friday we spent in Murangi, a town about 1 ½ hours south of Musoma directly on Lake Victoria.  The town is a small village of several thousand residents nestled on a hill overlooking the water, with a very splendid view. Anna Ruth and Annika Miller have made Murangi their home and we were treated to a wonderful 2-day taste of their daily life.
We arrived in Murangi just after noon on Thursday (after waiting several days to get our vehicle fixed) and met Anna and Annika at Murangi Secondary School where they are both teaching English.  Their class had ended upon our arrival, so we were immediately treated to a tour of the beautiful school compound and neighborhood.  The neighborhood in which Anna and Annika live is made up primarily of the secondary school at which they teach, a primary school, the Mennonite church, their homes, and the old home of the first pastor of the first Mennonite church in their area, a special historic landmark dating to the early 1930's (see photo).  Anna's father is Pastor Isaac Pamba, who pastors the local Mennonite Church in Murangi (also pictured), and her mother cares for the 8 children living in their home.  Annika's father, Mwalimu (teacher) Juma is an administrator in a nearby school system and Annika's mother teaches at the primary school.
We were treated to Tanzanian hospitality in genuine fashion, which allowed us to see Anna and Annika relating to their families….  the affection is quite mutual!  After walking through the neighborhood, we enjoyed a lunch which Anna and Annika helped to prepare at Anna's house with her family.  We sat in the shade of a tree and caught up with one another while enjoying the view of Lake Victoria.  After another walk around the neighborhood and into the town, we met up with Annika's parents.  We were generously hosted to dinner at Annika's home… be sure to find the photo of Annika assisting in plucking the chicken!
Anna and Annika are teaching English to Form 1 students (9th grade equivalent) at Murangi Secondary School and doing a great job.  They work under the advisement of the lead teacher Mr. James, who helps translate when needed, but they are responsible for the daily lesson plans, assigning homework, and grading.  We were impressed with how well run and neatly manicured the school was, really an impressive community model of how important education is to many Tanzanians.  We even had the opportunity to observe Annika and Anna teaching an English lesson to their fifty students, one of two sections which they teach throughout each week.  The students were obviously engaged and eager to learn, listening intently, and volunteering responses.  After class we returned to Annika's home for tea, a nice closure to our visit, before making our way back to Nyabange.
We left delighted that Anna and Annika are thriving in Murangi, both in their work settings and in their homes.  They have settled in well and are being cared for by two very amazing and generous families.  Greetings to everyone from Anna and Annika!