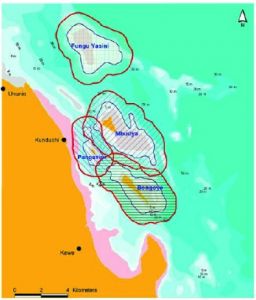 On Tuesday Dr. Albogast Kamukuru, a marine biologist from the University of Dar es Salaam, gave us a presentation on the challenges and opportunities in managing Tanzania's marine resources.  He emphasized the extreme economic importance of both freshwater and marine fisheries in a country where approximately 5% of the country is made up of aquatic resources.
As in many places in the world, marine fisheries are currently being managed using Marine Protected Areas (MPA's), where key ecological units are protected from fisheries.  These areas can then act as a nursery ground for nearby areas where fishing and other consumptive activities can occur.  Tanzania is particularly committed to using community based approaches where local fishermen and villagers help in the oversight and management of the conservation areas.  We continue to be impressed with both the commitment among Tanzanians to care for natural resources and the tight connection to local communities, despite the many other economic challenges facing Tanzania.
Today we again gathered at the Sensenig house for our last Unit House meeting.  We celebrated Abby Hertzler's birthday with ice cream and homemade brownies!  Yes, I did say HOMEMADE BROWNIES!  That was a real hit.  We discussed how amazing it is that on Monday we'll leave for our Serengeti trip and travel to our service locations.  We are soaking up the last moments in Dar, are appreciative of this time, and equally eager to start the next chapter.
Today's pictures are mostly contributions from the students and represent host family experiences, the brilliant change in weather, and our gathering today.  Thanks to Annika Miller, Anna Ruth, Indy Miller, Leah Thill, Emily Bowman, Lyida Yoder, and Laura Krabill.  Enjoy.