Training for Title IX Personnel
All Goshen College personnel who play key roles in the Title IX response to sexual harassment and processing of formal complaints receive annual training on policy and procedure, by nationally recognized organizations equipped to address the legal dynamics and committed to utilizing best practice in addressing sexual harassment and assault. Annual training is also provided for all GC employees and students.
Title IX Personnel include the Title IX Coordinator, investigators, adjudicators (including hearing decision-makers and appellate officers), and those who facilitate informal resolutions. Below, you will find information about training from the past two to three years.
According to the Department of Education's 2020 Title IX regulations, Title IX Personnel training material is available for public review. Goshen College will also share campus-wide training materials upon request. Contact the Title IX Coordinator, Beth Martin Birky, for those materials.
June  and July 2021
Independent Colleges of Indiana (ICI) hosted a 4-day comprehensive workshop in June and a 2-day workshop in July on the overall legislative framework for responding to and resolving student and employee reports of sexual harassment and assault. The workshop included some specialized session content for specific roles. Cozen O'Connor provides valuable resources for Title IX processes in higher education.
September 2020
The University of Evansville hosted a 3-day workshop by Cozen O'Connor on implementing the new regulations.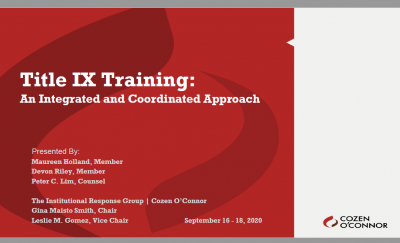 July 2020
Independent Colleges of Indiana (ICI) hosted a 3-day workshop by Barnes & Thornburg, Indianapolis, on the new regulations. Specialized sessions were provided for Title IX Coordinators, Hearing Officers, and Investigators.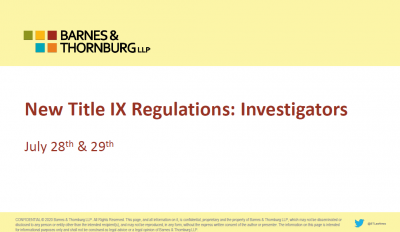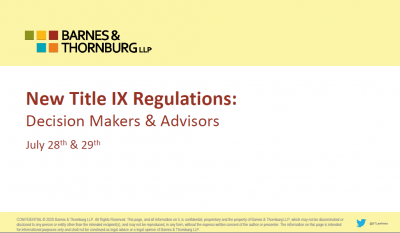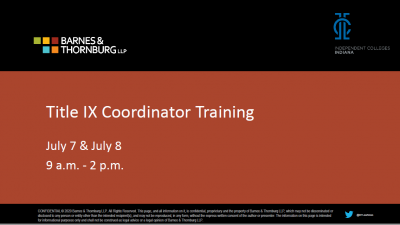 June 2020