Service Location: Grand Mbao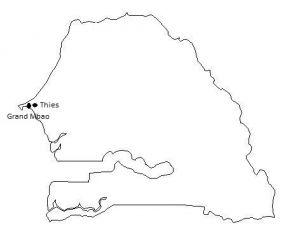 Mary and Kristen are located at Grand Mbao on the outskirts of Dakar. They work with an organization called "Les Amis de l'Ecole" (Friends of the School) that provides extra opportunities for students after regular school hours and during the vacation months.  They describe their activities in the following journal excerpts.
Mary
Other than work, a typical day consists of a 7:30 a.m. run on the beach followed by some yoga.  After breakfast of tea and bread we have some free time that consists of anything from reading, writing, sleeping, lesson planning, cyber café, watching soccer with the boys, sitting outside with the women, or going to the beach.  Lunch, or ceebu  jen as our family calls it, is around 2:00.  After lunch we watch soccer and drink tea until school at 3:30.  When we return home after school we play with the kids until dinner at 8:30.  After dinner is more playing with kids and talking with the adults until bedtime around 10:00 p.m.
Kristen
At school, our time is split into 2 sections.  The first is usually me and Anais (French volunteer), working with 4th graders.  We do a variety of activities, from practicing math facts to spelling bees to dictations to songs.  A lot of that time is just observing and helping kids with errors, just being there as support.  Then at 5:00 we go over to another class and I teach English with Mary for 2 hours to 13-17 year olds.  Everything is designed by and provided by us.  We do a combination of lessons on grammar and vocab, activities, games, and lectures about American culture.
We occasionally do field trips and activities with the kids, meaning that we are on that bus of singing children that our Goshen group laughed at on our field trip to Gorée.  We went to a bookstore in Dakar, where we got a lecture on books, had story time, and helped with some activities related to building their own stories.  This week was "green week," where we did some activities related to the environment such as decorating garbage cans to place around town, picking up all the trash around the school yard, and finishing in a field trip to a polluted swamp.  We had a sports day where the kids learned some basic basketball skills and games.
Photo credits: Mary, Kristen, Ron