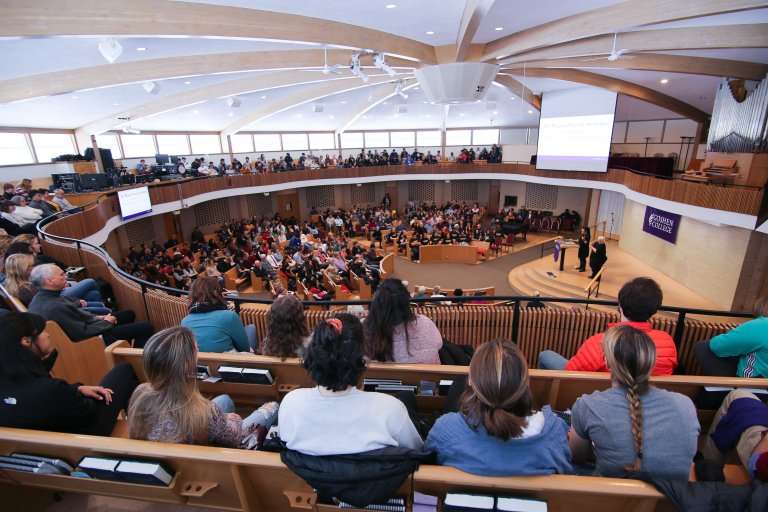 I'm taking time to write about our King Celebration (view photos and videos) over the past two days at Goshen College because I need to drink a little deeper at this well. Our theme this year was: "Unapologetically Just: Rooted in the Way of Jesus." I also want to practice what we teach: that writing helps us to incorporate our knowledge. And public writing holds us accountable to what we know.
Dr. Regina Shands Stoltzfus, professor of peace, justice and conflict studies here at GC, and our featured speaker this year, spoke about the person Rosa Parks. That is, the real person, not the simplified heroic character that we may know mostly from illustrated children's books. For further reading, Regina particularly recommends The Rebellious Life of Mrs. Rosa Parks, a biography by Jeanne Theoharis.
Regina helped us to see the role of Rosa Parks' family, in which she was first educated in consciousness and conversations about race. And the role of the Highlander Center, where citizen leaders in the civil rights movement were taught the ideas and skills of nonviolent social action. And the many citizens and allies in Montgomery who sustained for 380 days the bus strike that she began.
Rosa Parks' heroism arose from a social fabric that not only made her actions possible, but sustained her and the movement that arose from her actions.
On Sunday, Regina also spoke in the joint Goshen College/College Mennonite Church King Celebration Sunday service. In the Sunday School hour she asked us the three questions that she asks her students in her classes on race and justice:
What is your work?
Who are your people?
Who will you take with you?
My work is to collaboratively lead Goshen College to be hospitable and just for all of our students and employees, regardless of race, first language or nation, skin color or any other appearance, gender, or sexual identity. Striving to be unapologetically just, rooted in the way of Jesus. This work is too big for me to complete, but what matters is to begin, again and again.
I have work to do. I am deeply encouraged that I share that work with committed colleagues who challenge and educate me.
What is your work?
Rebecca Stoltzfus