Our journey in Peru comes to an end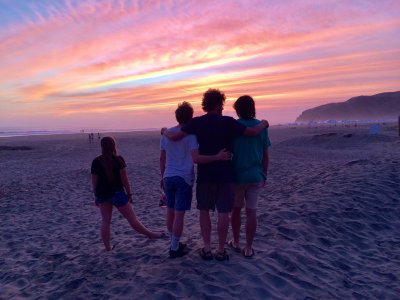 On Saturday morning, we left for Kawai, a retreat center about two hours south of Lima. We had time to share our stories, reflect on what we have experienced, and to prepare for our return home. Students also presented their interview-based research projects that they completed on service. We heard about adoption in Perú, creativity vs. tradition in Afro-Andean music, the experience of the Ashaninka during the Terror Times, women in the workplace, special education in Perú, and many other topics. In between the presentations and group sessions, we still had plenty of time for swimming, walking on the beach, singing, playing cards and enjoying our last days together as a group. Perú really put on the charm for our last weekend together, with lots of sun, a cooling ocean breeze, and clear skies.
On Monday afternoon we returned to Lima, repacked our suitcases yet again, ate pollos a la brasa one last time, and then headed for the airport. The return flight left Lima at 11:10 p.m., and by 2:30 this afternoon, the group was back in Goshen. As the Spring 2019 unit ends, we want to thank each of you for journeying with us as we learned more about ourselves, each other and our place in the world through our time spent in the amazing country of Peru.