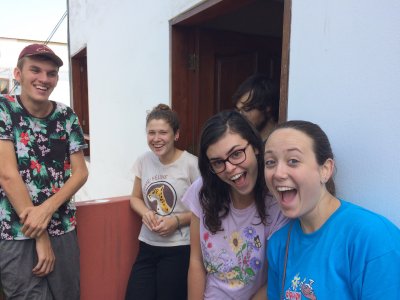 On Thursday evening, students in Ayacucho, Chanchamayo and Arequipa boarded overnight buses for their return to Lima. By 6:30 Friday morning, the first group had arrived at Casa Goshen, where they enjoyed some breakfast and waited for the arrival of the other groups. By late morning, the house was full of students swapping stories, turning in assignments and repacking their bags for the weekend.
The rest of the day was spent visiting Lima host families, making last-minute visits to favorite Lima spots, and resting at the hostel. Our two students in Chincha were the last to arrive, getting to Casa Goshen just in time to join us for supper prepared by Alicia. It was great to have the full group together again. There was lots of noise, and lots of laughter.
On Saturday morning, we depart for a three-day retreat where we can relax, share stories and reflect further on what we have experienced during our time in Perú and what awaits us back home.