A Journal Entry from Achieng: "Getting in touch with my spiritual .."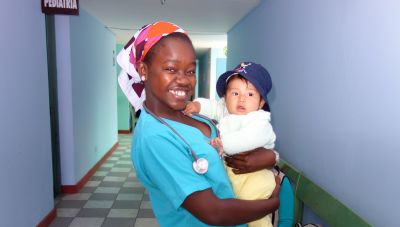 Being a college kid is hard, you know.  Assignments, group projects, trying to stay healthy, thinking about your future and all that mumbo jumbo.  Then comes your spirituality.  Goshen is a Christian school, thus you have many opportunities to interact spiritually on your own and with the rest of the GC community.  However, when the time comes, I always seem to be tired.  After a whole week of class and homework, all I want to do on a Sunday morning is sleep!
It's funny how much that has changed since being on SST.  I have found the church and prayer to be my safe space.  I have found that I resort to God in my times of need.  Prayer has acted as a powerful agent in my life the past few weeks.  I pray that the good God hold me and the rest of the SST group in the light, so that we can have enough strength to make it through this sometimes challenging experience.
I feel like I pray more than 5 times a day.  It just feels so relaxing.  This in an example of my go to prayer:
Our dear kind and loving Father who art in heaven, thank you for giving us this day and night.  As this day many of us go to work, to school, I ask that you help us and keep us safe.  Thank you for giving me such an amazing and supportive family here in Peru.  I ask that you continue to bless them through anything that they do.  Lord, help my friends and family back in the USA and in Kenya too. 
Lord, I pray for our SST group and I ask that you keep us happy, safe and healthy.  Help each and every one of us and hold us close to your heart so we can feel your love and warmth through any hard times.  Thank you for bringing me closer and closer to you each day.  I come humbly before you with all my struggles on SST and I ask that you take them into your hand.  I ask you Lord that you use me as a light in someone's life today.  Thank you Lord for everything you have done for us.
I pray this, in Jesus' name.  Amen